Here For The Beer
The Ultimate Guide to Gwinnett Breweries
Georgia's beer scene has blossomed significantly over the last decade. We can credit a couple of law changes—an increase in the state's alcohol-by-volume limit and the allowance of on-premise alcohol sales at breweries—for creating a surge in demand for interesting ales and lagers. In Gwinnett County, a legion of entrepreneurs have opened up shop to meet this demand. 
As a passionate beer writer, I set out to explore six brewing facilities in this part of the suburbs.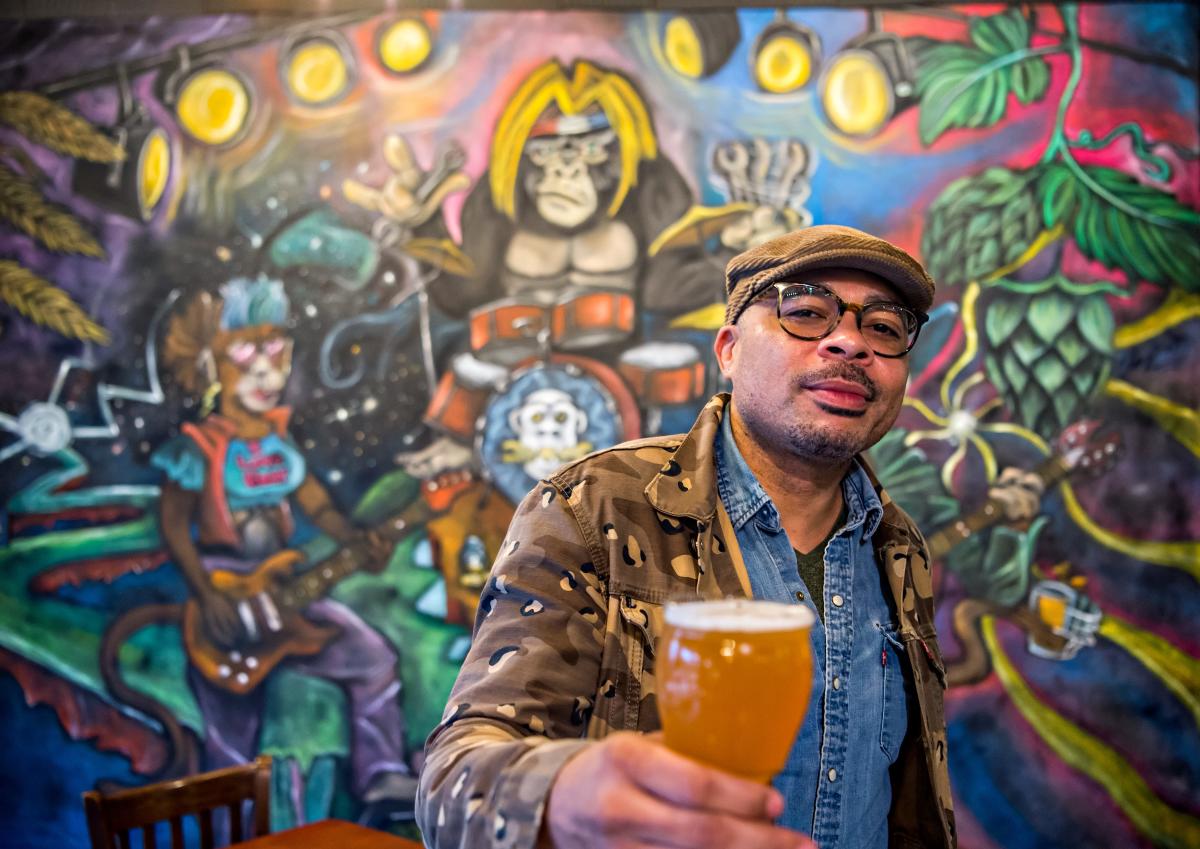 GOOD WORD BREWING & PUBLIC HOUSE
OPENED: NOVEMBER 2017
Ryan Skinner and Todd DiMatteo, part of the team behind one of the world's most renowned beer bars (Brick Store Pub in Decatur), expanded their empire beyond the perimeter to downtown Duluth.
THE VIBE:
The decor is a mix of fine wood fixtures, cozy booths, tables made from barrels, a book collection, and artful chalk murals. Delectable fare complements craft cocktails, an extensive wine list, and head brewer DiMatteo's liquid mastery. A spacious patio takes advantage of the city's often clement weather. This is hands down one of the best pubs in Georgia.
THE BEERS:
Local and national accolades are beginning to crowd Good Word's trophy case. The Hollow Moon Imperial Stout brewed with toasted coconut, cocoa nibs, brown sugar, and vanilla is a sure standout. The Scorch the Earth schwarzbier and Never Sleep hazy IPA are also among the many crowd favorites.
EXTRA GEMS:
Proud supporters of Atlanta United, Good Word also makes community service a priority, especially for their beloved city of Duluth. Oh! And scoop up whatever they are canning on-site. Trust me.
ANDERBY BREWING
OPENED OCTOBER 2019
Majority owners Preston and Michell Smelt have met the demand of thirsty Peachtree Corners residents to deliver an inventive brewery that fearlessly takes on countless styles of beer. They also take pride in patronizing independent farmers for most of their brewing ingredients.
THE VIBE:
The modern, open-air taproom is dog-friendly, loaded with board games and flat-screen TVs, and ready to host neighborhood events like spirit nights, trivia, and visits from food trucks.
THE BEERS:
Written on the wall in chalk, the diverse beer list ranges from pepper-in-fused pale ales to Irish ales, Mexican lagers, and a consistent homage to England (including barley wines, English milds, and bitters). The "Get Off My Lawn" West Coast–style IPA is the leader of the pack.
EXTRA GEMS:
Preston says, "We didn't approach this with a defined 'core beer' strategy; we want to make what people want to drink and have fun doing it.
MONKEY WRENCH BREWING
OPENED: JANUARY 2020
Hats off to Gwinnett residents Wayne Baxter and Joe Dreher, who have been working to open the Wrench's doors since 2011. The Suwanee drinking destination has a spacious indoor beer garden and a talented head brewer in Matthew Williams.
THE VIBE:
Monkey Wrench's love for music is evident: An eclectic array of vinyl records adorns the walls along with a brilliant chalk mural of clothed primates jamming with instruments.
THE BEERS:
The team is happy to say there is no one beer that stands out from the others, but a few deserve attention: The refreshing Wayne's Wheatbrewed with Mandarina Bavaria hops showcases a tangerine-like finish. We Are Your Monkey Wrench imperial stout warms souls at 9.1% ABV, while the most-awarded beer is the complex winter warmer, Very Merry Monkey Ale. 
EXTRA GEMS:
The brewery hosts private events, car shows, food truck festivals, sports watch parties, and more. Says Dreher, "Now is the most crucial time to support this new, local small business."
INDIO BREWING COMPANY
OPENED: JULY 2019
In less than a year, wife and husband team Betsy and Jonathan Martinez have established Indio as a must-visit sipping destination in burgeoning Sugar Hill. Jonathan's eccentric take on traditional styles has everyone coming back for more. 
THE VIBE:
Unlike breweries that host hundreds of guests at a time and produce truckloads of beers, Indio carves out its niche among those wanting a more intimate atmosphere. Beer is solely available on-site and infill-to-order crowlers (32-ounce cans). The tasting room's black-and-white color scheme aims for simplicity, making room for good conversation. But the Martinezes know how to have fun by hosting events like bingo night, comedy night, salsa night, and even baby goat yoga.
THE BEERS:
With an infusion of strawberry and raspberry, the Sour Patch Berliner Weisse is their top seller. The Prixter New England–style IPA fills a lot of glasses, while everything from a farmhouse grisette with peaches to a caramel porter satisfies a broad range of palates.
EXTRA GEMS:
A "Beer It Forward" board allows you to buy a beer for a friend, which they can claim at their earliest convenience.
STILLFIRE BREWING
OPENED: OCTOBER 2019
This modern-chic brewery is stationed on a hill across from the gorgeous Suwanee Town Center Park. Pouring phenomenal beers crafted by former 2011 Beer drinker of the Year Phil Farrell (who is also a Beer Judge Certification Program Grand Master Level 5 judge), Stillfire has a bright future. 
THE VIBE: 
Popping beer labels, can art, and painted kegs; a separate merch shop; and friendly service guarantee a great time for a diverse crowd. A food truck station accessible from indoors ensures fun pairings.
THE BEERS:
You can't lose with whatever you pick from the 20-plus taps, but the most popular beer is the Glory Haze New England Hazy IPA. The Cherry Bomb Cherry Limeade Sour, Mardi McFly King Cake Ale, and Midnight Voyage Cuban Coffee Nitro Stout need to be strongly considered for the customized beer flight tray as well.
EXTRA GEMS:
Amenities include two massive patios with fire pits, a large outdoor space with a playground for the kids, and a to-go window for take-out beer (open containers are allowed in Town Center Park)
SLOW POUR BREWING COMPANY
OPENED: SEPTEMBER 2017
The city of Lawrenceville has had a remarkable resurgence within the last few years, and Slow Pour played an integral part. Now in its third year, Slow Pour remains one of the most popular destinations to imbibe, enjoy live music, and just kick back.
THE VIBE:
Slow Pour preserved exposed brick and wood fixtures of a century-old garment factory; the result is an airy, industrial-chic interior spanning 3,000 square feet. Festive touches include darts, board games, and a pet-friendly beer garden with cornhole and food trucks.
THE BEERS:
Available on tap and in newly designed cans packaged in the back, Slow Pour's best seller is the easy-drinking Cotillion blonde ale. Properly addressing the IPA craze, the tropical-forward Southernality—at a crushable 5.2% ABV—is the most popular choice in six-packs.
EXTRA GEMS:
Founding partner John Reynolds proudly says, "We are very much community-focused and are always looking for ways we can give back.
More breweries have opened since this enlightening article was written. Learn about all of Gwinnett's breweries here:
This article, written by Dennis Malcolm Byron AKA Ale Sharpton, originally appeared in Volume V of Explore Gwinnett Magazine and has been condensed for exploregwinnett.org.