Tannery Row
The Buford artist colony is a blend of art, color and creativity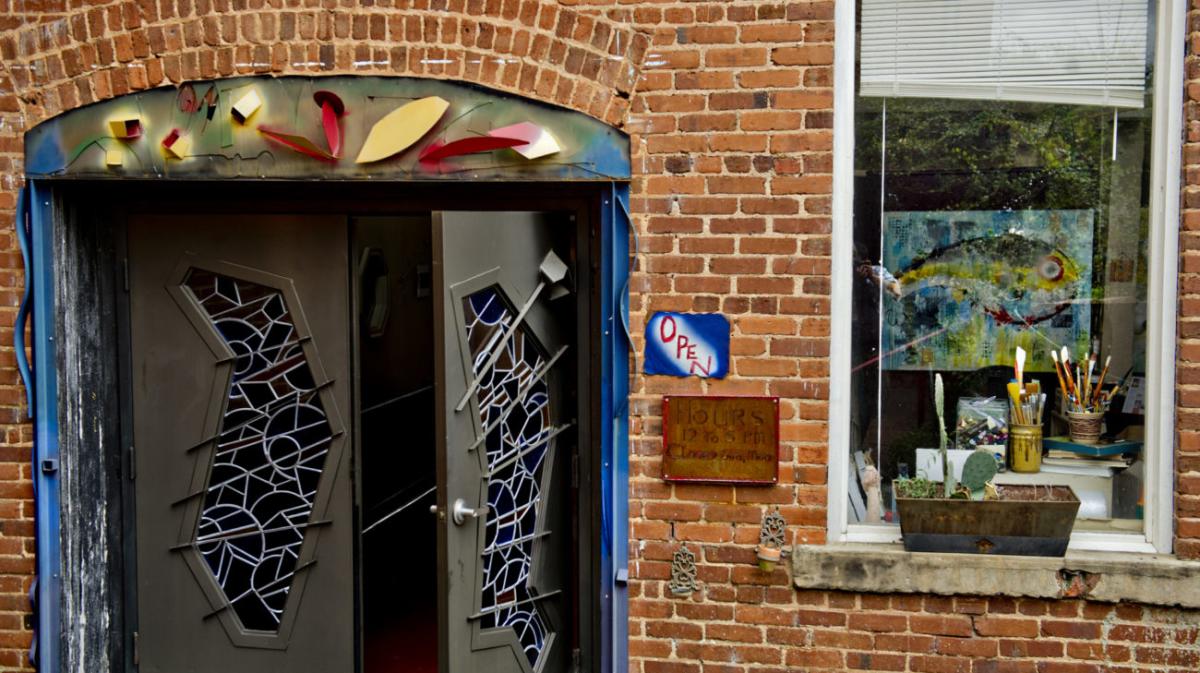 Judith Surowiec painstakingly daubs a whorl of electric-blue paint on a taut canvas and then smiles, pleased by the result. 
Her studio, overflowing with her paintings, is a dizzying riot of bold colors, with not a trace of beige in sight. At 78, with a long, white ponytail, Surowiec is one of the founding members of Tannery Row Artist Colony, a busy hive of creativity on Main Street in Buford. "By now I've done so many paintings that I really don't need to do more, but I just can't help it," she says. "It's something I have to do."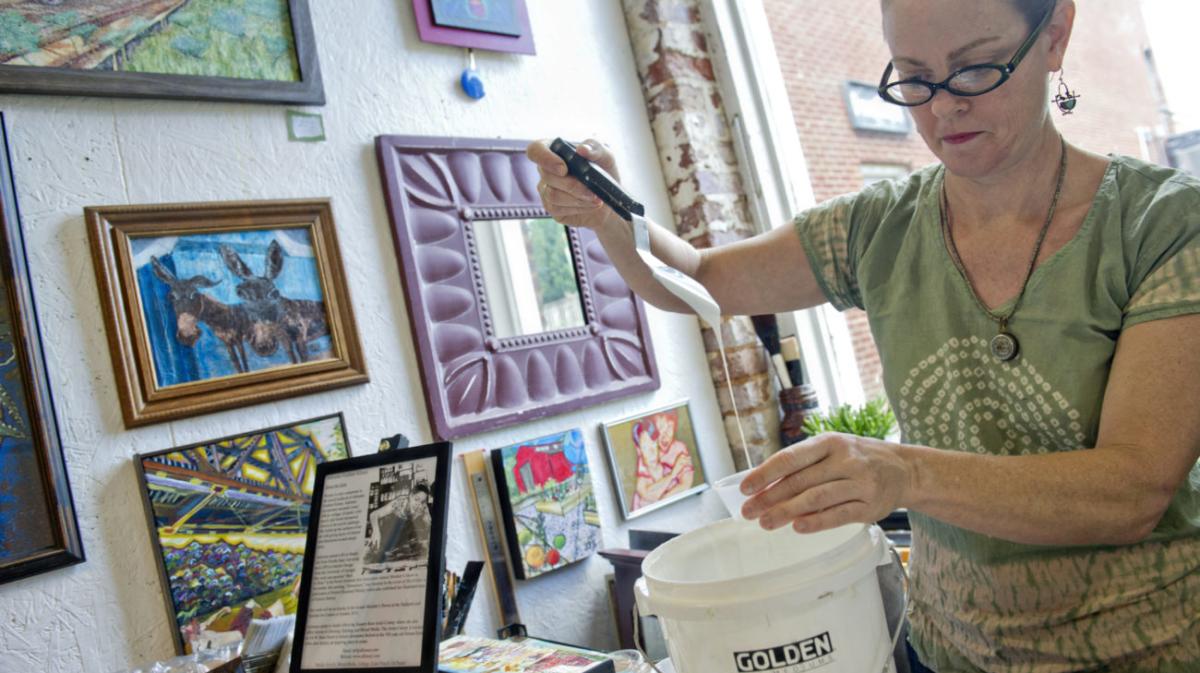 Tannery Row, which is celebrating its 13th year, comprises a collective of 15 visual artists—full-time working painters, sculptors, potters, printmakers, jewelers, mixed-media artists, and others—with individual studio space divided among them. The public is encouraged to stroll the halls, watch the artists tackle their works-in-progress, and ask questions. Many of the artists also teach classes. So every day, without fail, someone is producing something to hang on a wall or display on a mantel.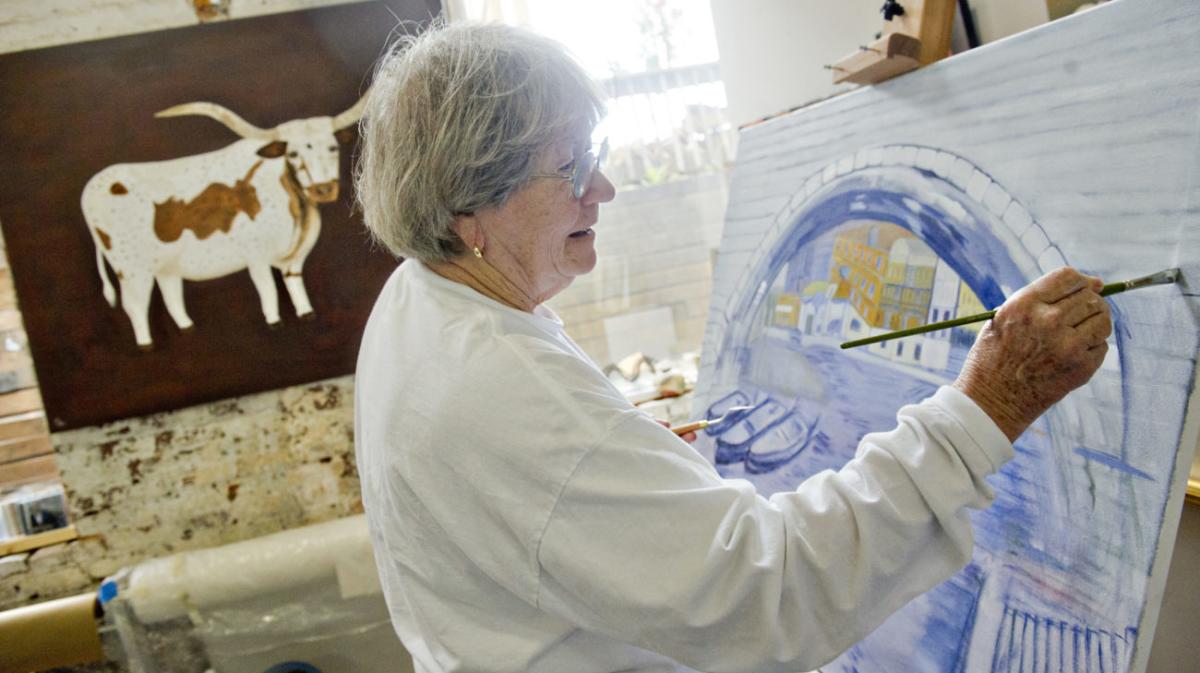 "We have artists who work with a wide variety of different media and materials," says potter Judy Isaak, who grudgingly calls herself the president of the group. "We really try to do everything by consensus here, so I'm only loosely in charge," she says. "We like to make certain that everyone's voice gets heard."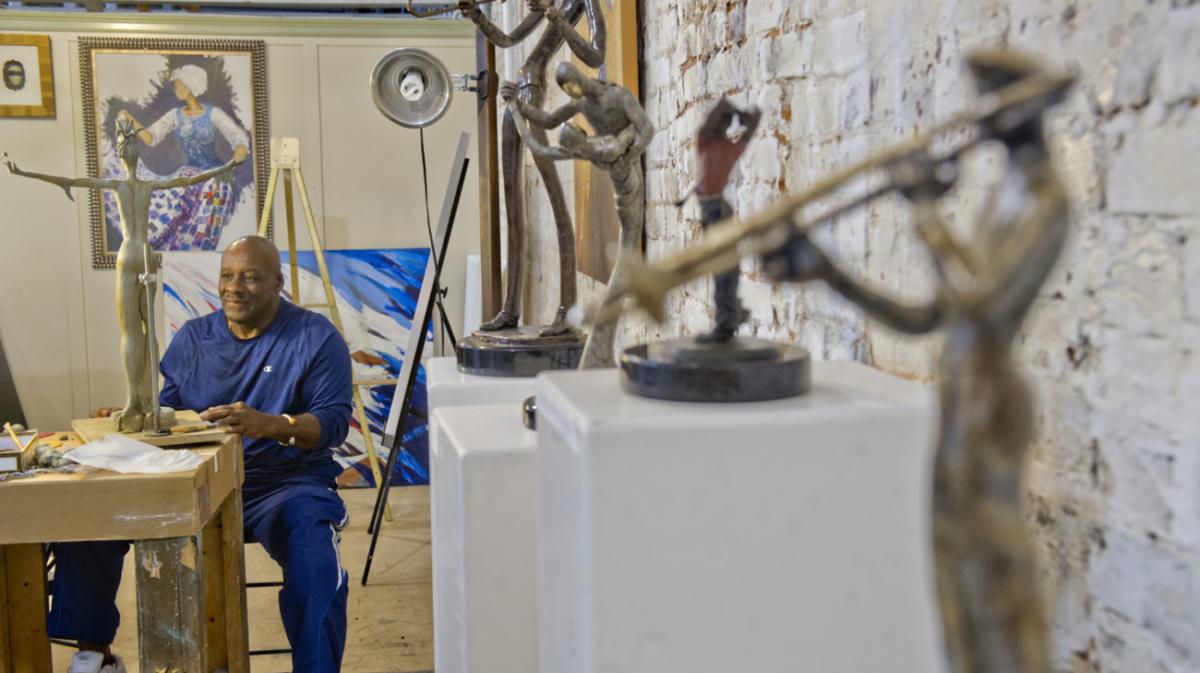 The artists of Tannery Row compete with each other in juried exhibits, and there is a waiting list to get into the colony. "When we are considering artists, we require examples of their work, either live or on a website, to get an idea of where they are in their artistic travels," Isaak says. "We prefer someone who has the time to be present here as often as possible so that all of the studios stay open during the day."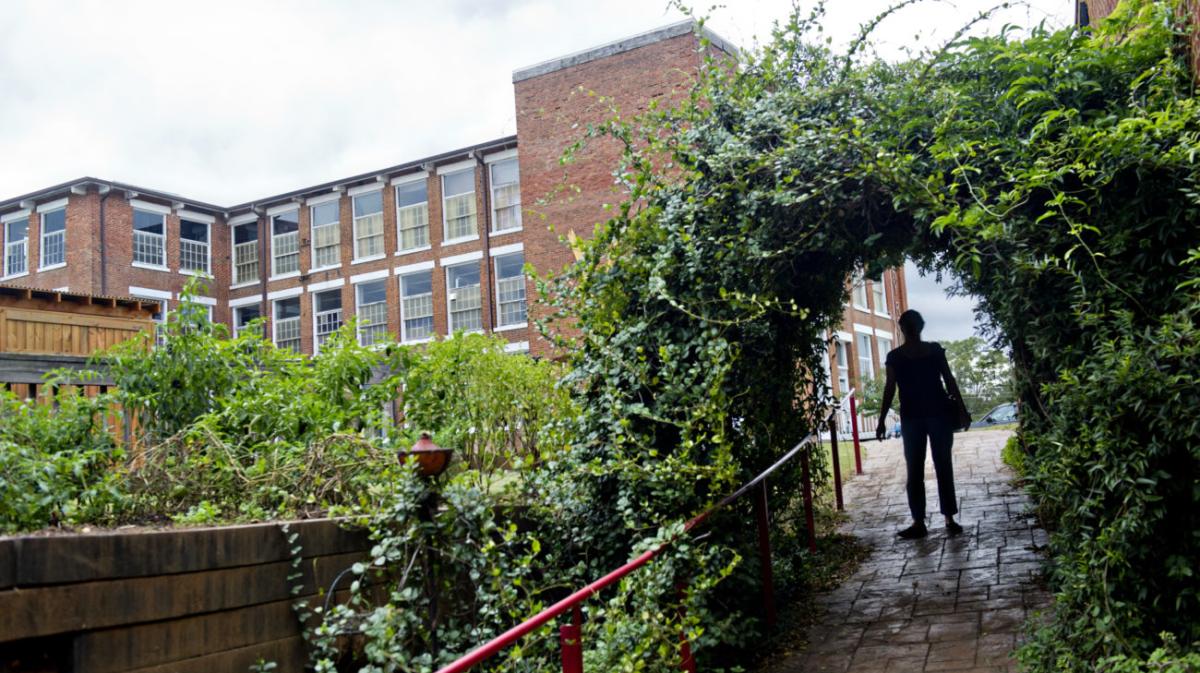 For the competitions, judges consider the overall quality of each piece, the workmanship, and the creativity on a theme. Tannery Row also hosts two shows a year open to other artists in the community. 
Despite the high standards, Surowiec says, a spirit of collaboration prevails."It's not a competitive environment," she says. "We help each other. One of us might be blocked, so we'll ask the person in the next studio for a critique or a suggestion on how to fix a problem. We go faster when we help each other out." 
THE LEATHER CITY
The atmosphere of Tannery Row derives from the aesthetics of the brick building, which is a sprawling, spacious 10,000 square feet and is listed on the National Register of Historic Places. It was originally built in 1897 as a woodworking factory that produced chairs, doors, and blinds. In 1904, Bona Allen converted the space into a tannery that made horse collars; it became known as the "largest collar factory in the world" and earned Buford the nickname "The Leather City." The company expanded to make shoes, constructing 3,000 pairs a day and ultimately selling 521,000 pairs. During World War II, the U.S. Army quartermaster engineer took over the operation to repair shoes for soldiers, and ultimately the factory was turning out 6,000 pairs of shoes and boots a day, which added up to 1.5 million during the war.
"Saddles, horse collars, bridles, mail satchels, baseball gloves, and shoes all have been made here," says Isaak. Cowboy icon Roy Rogers famously bought a saddle for his horse Trigger from Bona Allen. That operation closed after the war, and the building has since been through several incarnations, including a stint as an antiques mall.
"I've been told that my studio was once where they refurbished shoes for para-troopers," Surowiec says. "It was a different era. They didn't just throw things away—they repaired them for future use." Surowiec sees her role as both artist and healer. "One of our jobs as artists is to make something beautiful out of something horrific. Think about the 9/11 memorial and the Vietnam memorial. It was artists who responded to those events and helped people heal."
Tannery Row removed the top floor to give artists the natural light they crave, so the ceilings are 20 feet high, and one of the artisans fashioned rococo iron gates for every studio, which adds a nifty flourish. Artwork covers most of the wall space, so exploring Tannery Row feels like being in a museum—a living, constantly evolving oasis of creativity amid the bustle of Gwinnett County.
CREATIVE CONTROL
In one of the studios, Janet Poor is painting a small, elaborate portrait of an Italian door while her student, Jill Still, dabbles on her canvas. There are long silences between them as they laser-focus on their work.
"I really love this place because of the autonomy," says Poor, who has started a line of pet portraits she hopes to sell on commission. "We have control over what we want to do in our studios. And it's a great place to teach because students get exposed to so many different kinds of art. It's an eccentric place. Everyone here is very encouraging, whether you're a newcomer or an experienced artist."
Still smiles and nods as classical music plays softly in the background. "I come here because I feel great peace here. I started from nothing but have been taking classes from Janet for four years. So I come here once or twice a week and always do some-thing different, just because."
ART IN MOTION
Down the hall, Christine Canova is working on a seascape, one of her specialties, which she sometimes donates to marine-mammal conservation groups. She has also been ex-perimenting with pieces made from sturdy, handmade Japanese paper, which she em-bosses with leaves and other implements to manipulate its texture. "I change the fiber of the paper, which makes it look like batik or charcoal, but it's acrylic. I'm obsessed with paper at the moment, but I also am working on paintings of musicians, which sell well." She points to a display of horn players that look as if they're making sweet jazz; most of her work is dynamic and kinetic, seeming to be in motion. It's a good fit for an artist colony that never seems to stop.
---
This article, written by Candice Dyer, originally appeared in Volume III of Explore Gwinnett Magazine