State-of-the-art filming facilities
Film/Tv Studios
Commercial Studios
Sound Studios
Production Office/Event Space
At 470,000 square feet, it's the largest TV production studio facility in the U.S. under one roof. The covered breezeway provides over a ¼ mile of safe, convenient and private base camp parking for cast. Four (4) 30,000 square foot soundstages each have 3,000 amp power distributed across all four walls and it is the only facility in Atlanta that offers 87.5 tons of "silent air" on each stage. ERSA has over 150,000 square feet of air conditioned flex space for construction, set dressing, wardrobe, SFX, as well as custom rooms for catering, cast holding, table reads, etc. Over 36,000 square feet comprise three (3) office hubs, only a 30 second walk from the stages.  
Productions:
Current/past productions include "Dynasty," "Ozark," "Queens," "Memories," "MacGyver" and "Greenleaf." They have been home to feature films including "Mother's Day," "Diary of a Wimpy Kid: The Longest Haul," "Escape Plan 2," and "The Darkest Minds."
Address (3):
6269 Best Friend Rd. Norcross, GA 30071
2225 Skyland Ct. Norcross, GA 30071
1375 Beverage Dr. Stone Mountain, GA 30083
Contact: Michael Clark, General Manager
One Sheeter:
Third Rail Studios
Third Rail Studios is a purpose-built film and television production studios, located less than 10 miles north of Midtown Atlanta and in the creative community known as the Yards District of Assembly, site of the historic former General Motors assembly plant.
Purpose-built sound stages totaling 60,000 square feet with 41 feet clear to the steel.

Loft style, fully equipped production suites totaling 27,500 square feet.

Mill / flex space of 70,000 square feet.

Drive through lane with direct access to studios, mill/flex space.

Up to 30 gigabits of synchronous bandwidth provisioned throughout the studio.

Sound rated well below NC-25.  See sound rating results HERE.
Contact: (844) 373-7245
Address:
Timeless Entertainment
Timeless Entertainment Group is a 19,000 square foot film, television, music, and event production facility located in Peachtree Corners, GA. We take pride in being more than a facility. We strive to serve as a member of the extended community of support our clients need to realize their visions and dreams. Our facility is a peaceful, professional environment featuring:
Soundstages

A green screen room

Black/white cyc wall

Executive conference room

Media/Podcast room

Music studio

Production office space

Free parking
Productions:
Contact:
Jamal Jordan
mayliej@gmail.com
timelessentertainmentgroup.net
Address:
2995 Courtyards Dr. Building B
Peachtree Corners, GA 30071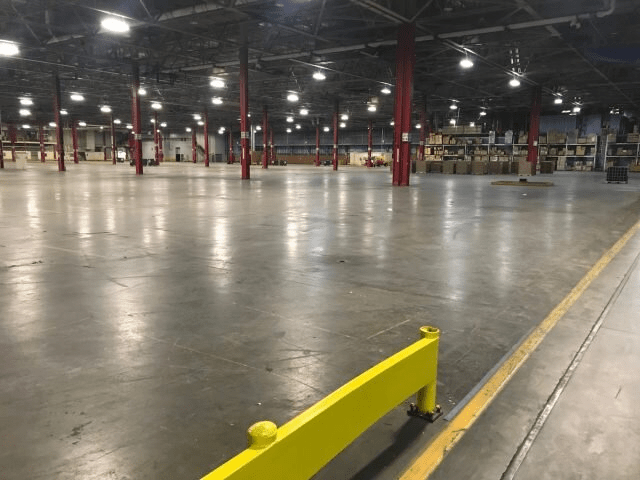 OFS
OFS is a 160-acre movie studio campus, conveniently immediately off I-85, at Jimmy Carter Blvd (exit 99), only 15-20 minutes from downtown Atlanta.
The site offers over 300,000 sf of warehouse and sound stage column-free space, one of the largest green screens in the nation, a 6-acre back lot, thousands of surface parking spaces, production office space and 30-40 foot ceilings and a wide variety of possible location filming options.
Productions:
OFS is one of the largest and busiest studios in metro Atlanta, and has been the home to over 40 productions in the past several years. Productions include Black Panther, Godzilla,  The Avengers, Bad Boys 3, the Fast + Furious series and numerous other small to blockbuster productions. 
Contact:
Studio Manager: Mike Reams
770.337.8786 or mreams@ofsoptics.com
Crystal Young
cyoung@ofsoptics.com 
Address:
6305 Crescent Dr NW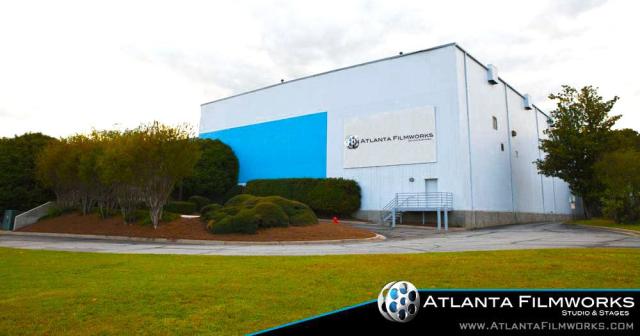 Atlanta Filmworks
Atlanta Filmworks facility houses the perfect combination of attributes and amenities that all feature film and television program productions need. The open main stage, very large mill / flex space and plenty of offices are here to make your production easy and accessible. Atlanta Filmworks answers phones 24/7 and for no additional charge they have an on-site facility manager should you have any needs regarding the building during your production. Quick decision making and customer service are the two hallmarks of Atlanta Filmworks.
20,240 square foot column free soundproofed main stage

20,025 square foot flex/mill or 2nd stage

16,000 square feet of production offices

Completely silent air-conditioning and heat in stage and flex/mill

42 foot clear height in main stage

35 foot clear height in flex/mill

8000A max power

100+ parking spaces with a separate truck entrance

Art department bullpen / Executive offices / Conference room / 39 offices

Construction offices in flex/mil building

Camera lock up

3 Large lunch and break rooms

Plenty of fenced concrete in the back for grip trucks and trailers

12 Total loading docks in building, 6 in stage / 6 in mill/flex

4 acre corner site
Contact: (404) 630-0508
Address:
Commercial Studios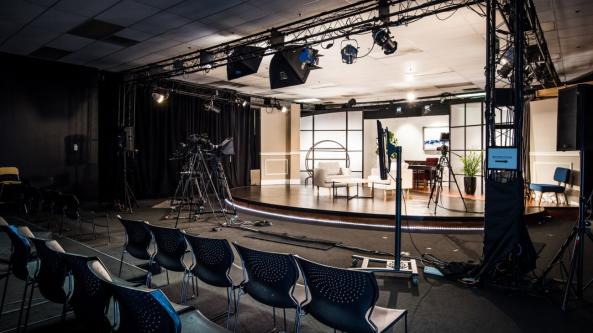 Davis Media Studios
Davis Media Studios' (DM Studios) feature two large production event halls (3000 and 7000 sq ft) outfitted to host large events, concerts, fashion shows, galas, seminars, performances, live and live-to-tape interview-style programs with seating for 75-300+ live audience members. Davis also includes large areas for green screen productions. The facility boasts full HD capability, with five cameras available (two with teleprompters) and an award-winning staff.
The expansive green rooms and dressing room guarantees guests feel like royalty during the production experience! We offer crew labor for all needed posts for the pre-production and production of any format requirement, while utilizing decades of field experience, including traveling globally on location-specific production requirements as well as in-studio live and live-to-tape productions.
Contact: 770-904-0007
Address:
2775 Premiere Pkwy #200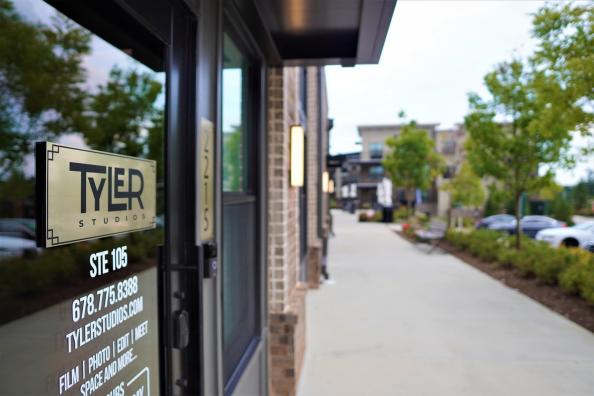 Tyler Studios specializes in Digital Content Creation and Editing, Corporate Videos, Commercials, Music Videos, and Photoshoots. Whether you are an ambitious producer looking to shoot a TV pilot, an influencer needing space to produce streaming content, talent needing a headshot, or perhaps you're a professional needing a conference room to hold your business meetings, our state-of-the-art spaces and services will accommodate your needs. With Atlanta being our main hub, we also assist in a network of film locations that can fit any budget. Inquire Now!"
Contact:
678-775-8388
Address:
2200 Duluth Highway
Suite 105
Duluth, GA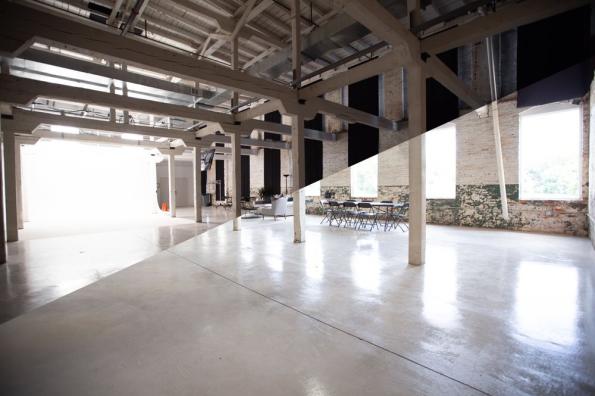 Form Factory Studio
Form Factory Studios includes a 24×12" 1 wall cyc, client lounge and on site food from Tannery Row Ale House. Other services include on site rentals, wardrobe and make up areas and a large parking lot and loading deck.
Contact: 706-761-7868
Book@FormFactoryStudio.com
Address:
554 W. Main St., Bldg B Suite 500
Buford, GA 30518
Sound Studios
Tree Sound Studios
Tree Sound Studios is a unique blend of vision, precision, and the desire to make great music, with an atmosphere designed to excite and inspire. The accommodating staff provides the individual attention every recording artist needs. Detail, combined with technical expertise and dedication make Tree Sound Studios an ideal recording studio for audio projects of all levels.
Notable clients include:
Gwen Stefani

Aerosmith

Lil Wayne

Nelly Furtado
Contact:
770-242-8944
Address:
4610 Peachtree Industrial Blvd
Norcross, GA 30071
Production Office/Event Space
Small & Large Events: 500pp+ Banquet Room, 100pp+ Standing Room, under 75pp rooms

Conferences: 10 Classrooms, 6 breakout rooms, kitchenette

Meetings: 2-10pp, table reads up to 25, rehearsal space for up to 20pp
Contact: onesevenspaces@gmail.com / 678-744-7225