Reunion Tips & Trends
Trends In Family Reunions
Online Registration
A family website can be created for next to nothing. Purchase a domain name like RobinsonFamilyReunion.com or TheSmithFamily.com from a website like GoDaddy.com or Register.com for less than $20. Then, make use of free website services like web.com or WordPress.com to post family updates, pictures, contact info, birthdays, etc. Engage younger family members who may be web savvy to be responsible for updates.
Another alternative is to create an event on Facebook, which will allow guests to RSVP. Reunion hosts can also post updates and pictures in the Facebook group.
Family Photo Booth
Hire a local company or enlist a skilled family member to set up a photo booth on-site at one of your reunion events. These photos make great keepsakes for attendees and they are also perfect for posting to Facebook or to the family's website.
Fun Photo Displays
Check out this great example from Rialee Photography of fun ways to post and share memories on-site at your reunion.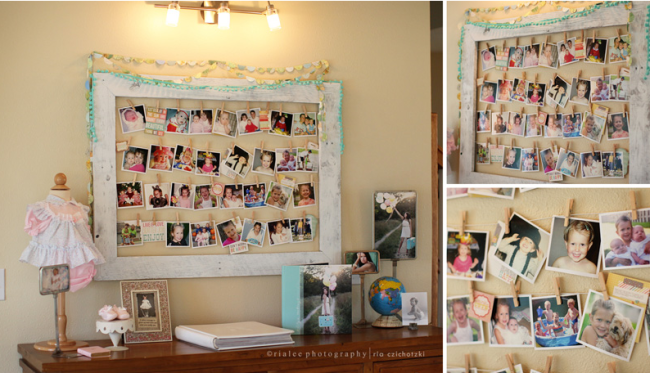 Photo from http://rialeephotography.com/
Genealogy
Make use of services like Ancestry.com to trace your family's history. Bring a large printout to the reunion and have relatives help you fill in any missing information.
Money Saving Tips
Evites
Evite.com is a free RSVP service. Create an invitation, email it to attendees and allow them to RSVP online. Evite provides them with maps, email reminders and even allows invitees to post comments about the event.
Avoid Holidays
Try to avoid planning your reunion for Memorial Day, Fourth of July or Labor Day weekend. Caterers, photographers and other vendors tend to charge more at these times.
DIY
Use family photos and discount stores instead of having decorations custom made. Or, enlist a crafty family member to handle making cost effective centerpieces, photo displays and keepsakes.
Check out a list of family reunion freebies from Reunions Magazine.
Atlanta has long been known as the Southeast's top destination for family reunions. Jam-packed with civil rights heritage and history, family attractions, world-renowned dining and Southern hospitality…