Feast Your Eyes
It's like a digital art gallery! Here we feature four standout showcases of visual art found in the heart of Gwinnett. Grab a glass of wine and take a look around. Please don't grab the art.
THE SCULPTURE PARADISE: SUWANEE SCULPTOUR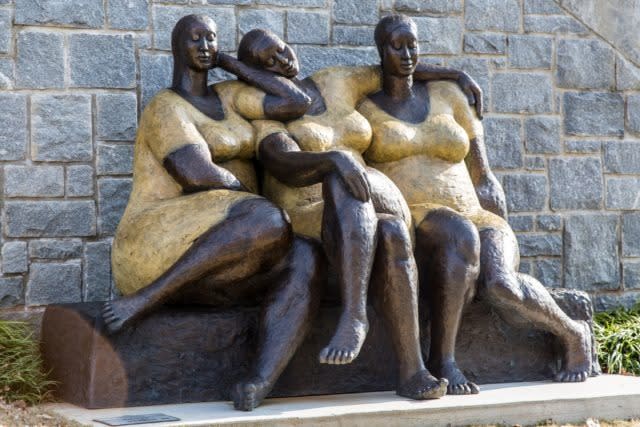 Nnamdi Okonkwo's Friends depicts a trio of curvy, barefooted women curled up together, taking a break from life, perhaps having a good gossip. Gregory Johnson's His n Hers offers a sense of good humor, depicting two bright, colorful popsicles. Jack Howard's Swinging II provides a moving, brightly-colored sculpture that depicts a man, well, swinging. These are but three of the nineteen public art pieces you can experience as part of the City of Suwanee's walkable art encounter, loosely situated along a one-mile path in and around Town Center Park. Launched in 2011 and rotated periodically, the current crop of sculptures remains in place through 2022.
THE COOL COLLECTIVE: TANNERY ROW ARTIST COLONY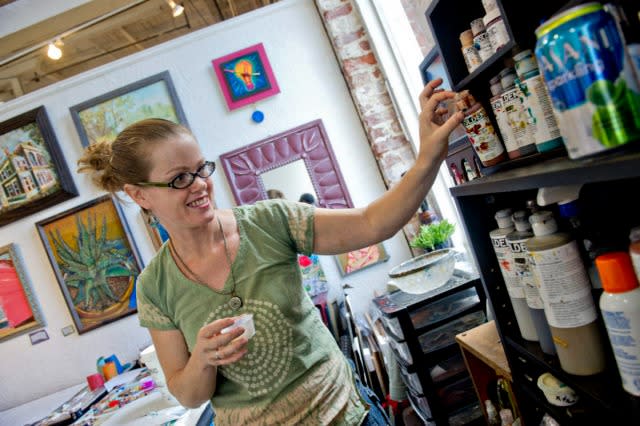 In its heyday, the Bona Allen Company (1873–1981) was the nation's largest leather tannery and once made a saddle for Roy Rogers' horse, Trigger. Today, the red brick landmark in downtown Buford is home to a thriving artist colony. Tuesdays through Saturdays, the public can wander into the studios of a diverse bunch of makers — from potter Judy Isaak to printmaker Debra Barnhart to mixed-media wiz Bree Sauers — for an up- close view of their creative process. Afterward, visitors might retire to the Tannery Row Ale House next door for a craft beer or check out the bronze statue of Rogers and Trigger in the park across the street.
---
MEET GEORGE NOCK, TANNERY ROW SCULPTOR
A former professional football running back for the New York Jets and the Washington Redskins, Nock says he has been an artist since he "started drawing cowboys and Indians" at age three. An associate artist at Tannery Row Artist Colony in Buford, he recently completed a public-art commission for the new public library in Milton, Georgia.
"It's a really quiet and easygoing environment. I'm not distracted," Nock says of the local art scene. "The environment helps me to slow down and smell the roses and as- certain which way I want to go. There are lot of resources in Gwinnett that I can tap into to get ideas and inspiration... It really sparks a dialogue. Inside the studio, outside the studio: I just keep meeting different people." 
---
THE CROWN JEWEL: THE HUDGENS CENTER FOR ART & LEARNING
You know you're at the Hudgens when you spy the gleaming white, post-modernist rotunda at the Gas South District. Gwinnett's most vital visual-arts address is a light-filled sanctuary of galleries surrounded by an elegantly designed sculpture garden. On any given day, you might encounter artists firing raku pottery outdoors, kids creating "make-and-take" projects, or visitors checking out the Rembrandt exhibit (coming fall 2016) and Howard Finster folk art. In 2011, the center inaugurated the Hudgens Prize, which bestows a $50,000 award and a solo exhibit on a deserving Georgia artist. Not bad for an organization that started as a grassroots arts council thirty-five years ago. The Hudgens Center for Art and Learning offers free admission to its galleries, through a generous sponsorship by Holtkamp Heating and Air.