Mac Lab Bakery
We interviewed Duluth residents Jack and Lan Cheng, owners of Mac Lab, a wildly popular bakery and café in Duluth. The Chengs tell us about what inspires their work, the art (and chemistry) of making macarons in the South, and the small business community in Duluth.
Explore Gwinnett: Have you always been in the culinary scene? How did you get into this industry?
Jack: Since my family runs restaurants, I've been out there working with them since I was 14. Then, professionally speaking, six years. We decided to go to the Culinary Institute of America up in New York. We went together. There are only two programs there. She went for the Baking and Pastry, and I went for the Culinary Arts. After that I went over to Copenhagen, Denmark and worked at Noma – which at the time was the number one restaurant in the world. I was a stagiaire there. Copenhagen is extremely expensive, and my family needed me back home, so I did that for a very short term.
Explore: Was that on Anthony Bourdain?
Jack: It was! When I was there, we were actually prepping for him. We knew it was going to be a big thing. Then I came back to the US. She's always had such a passion for cakes and pastries.
Lan: Anything I can create or decorate. I love to draw and decorate and just doodle. Even before we went to school, I knew I wanted a cute bakery. I didn't want a massive place. I wanted a cute, intimate, date place. So I went to school with that mindset. Went there and came back and thought we have to do it in Duluth, because this is where we grew up. We always stay in the Duluth and Gwinnett bubble, so we want to have a place that was a little different or out of the norm.
Explore: How did you two meet and how long have you been married?
Jack: We met next door [Ming's BBQ, his father's restaurant] I was working there, and she came in as a customer and ordered the tea. We have mutual friends so we just struck up a conversation and food was kind of our common –
Lan: That's our foundation [laughs]. We've been together six years, and we've been married for two.
Explore: How did you choose the name for your restaurant?
Lan: After school I came back here, and it's one of those creative skills that if you don't use it, you lose it. So I created a bake club for my friends and me because my family was like "you're baking too much, it's getting ridiculous." I would just make a lot of random things and be like, I think I need to hone in on this. Macarons are very hard to make in Atlanta because of the humidity. I made them at school – like 800 of them a day for the bakery at school. I came back here, and I was so overly confident, like, "oh yeah I can make these," and they were a disaster. For a year, I had to create a recipe that would work with our humidity and with the different ovens, so it was a lab. My friends would always joke with me, "What's going on with the lab today?" I've done crazy flavors: jackfruit, spicy mango margarita, amaretto cherry, just whatever. It became a laboratory, so I was like "Oh, Mac Lab!"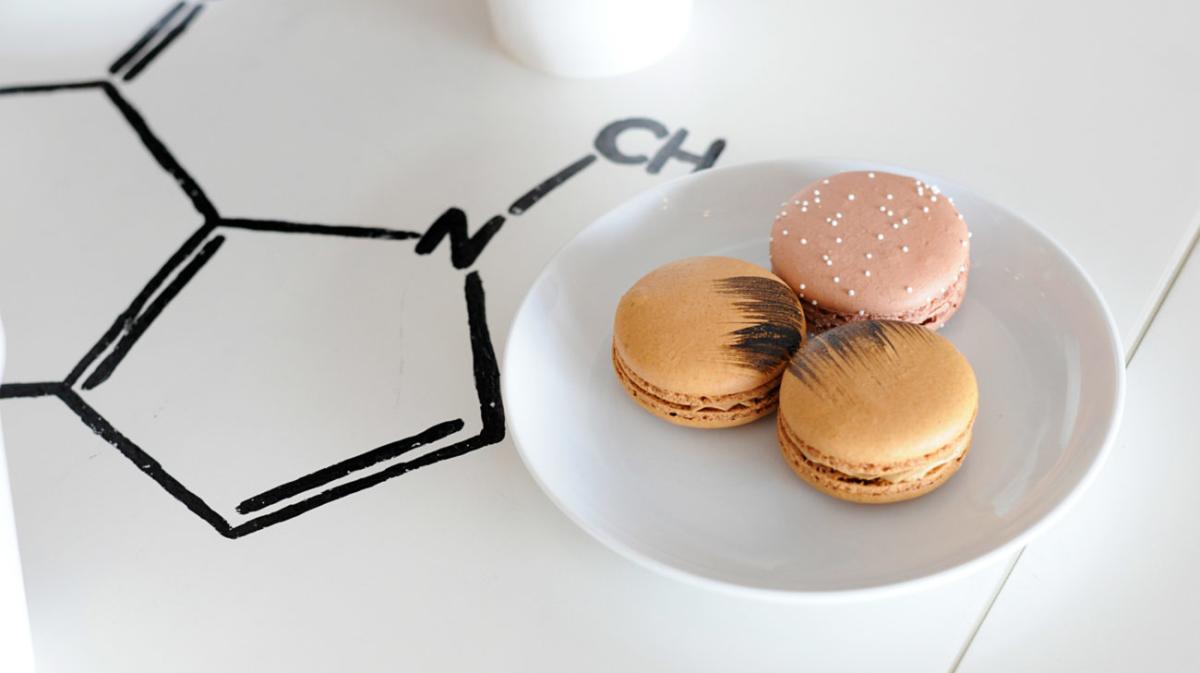 Explore: You must spend a lot of time together; do you work well together?
Jack: We do! I always divert my questions to her, because she's the pastry chef. She pretty much taught me everything that I know, and from there I just grew on my own. I've always been interested in making breads and cultivating my own yeast, so I don't use the commercial stuff.
Lan: He's good with the viennoiserie – like croissants, things that don't need to be to be refrigerated.
Jack: She's extremely artistic, and I'm more technical. So when it comes to breads, the art is really in the fermentation of the yeast. It's more technical and less art, less color for me, so I think that's why I lean toward that.
Lan: That's his strong point. I love bread, but it doesn't love me [laughs].
"I love bread, but it doesn't love me."
Explore: How did you decide on macarons?
Lan: The last part of the program at school, you have to work at a bakery, the school's bakery. I had the position of macarons. I would have to produce at least 800 macarons a day. It was one of the most challenging things to make. At first, it was very frustrating and I would find myself having conversations with it like, "Why aren't you turning out?" [Laughs] Then I got really addicted to trying to overcome it. Oh, it's sunny today, I have to do it this way; rainy, I have to do it this way. Winter, summer. It requires a different way.
Jack: It's extremely sensitive.
Lan: Yes. They are very high-maintenance, but they are so darn cute. A lot of people still mistake them for macaroons.
Jack: The coconut version. People come in and say, "Oh, does it have coconut in it?"
Explore: Oh wait, so I'm not saying it right? They both aren't mac-a-roons?
Lan: Yeah it's ma-ca-rons.
Jack: Well to pronounce it correctly, you have to be speaking French, so it's really kind of hard. We aren't going to be like, "This is how you really pronounce it."
Lan: They are also gluten-free naturally, so people that are gluten intolerant can find a little dessert. I feel like it's a healthier dessert – almond flour, egg whites – on the healthier side. I would like to think so [laughs]. I enjoy making them. Every time I finish them, they are just so cute. It makes me feel good.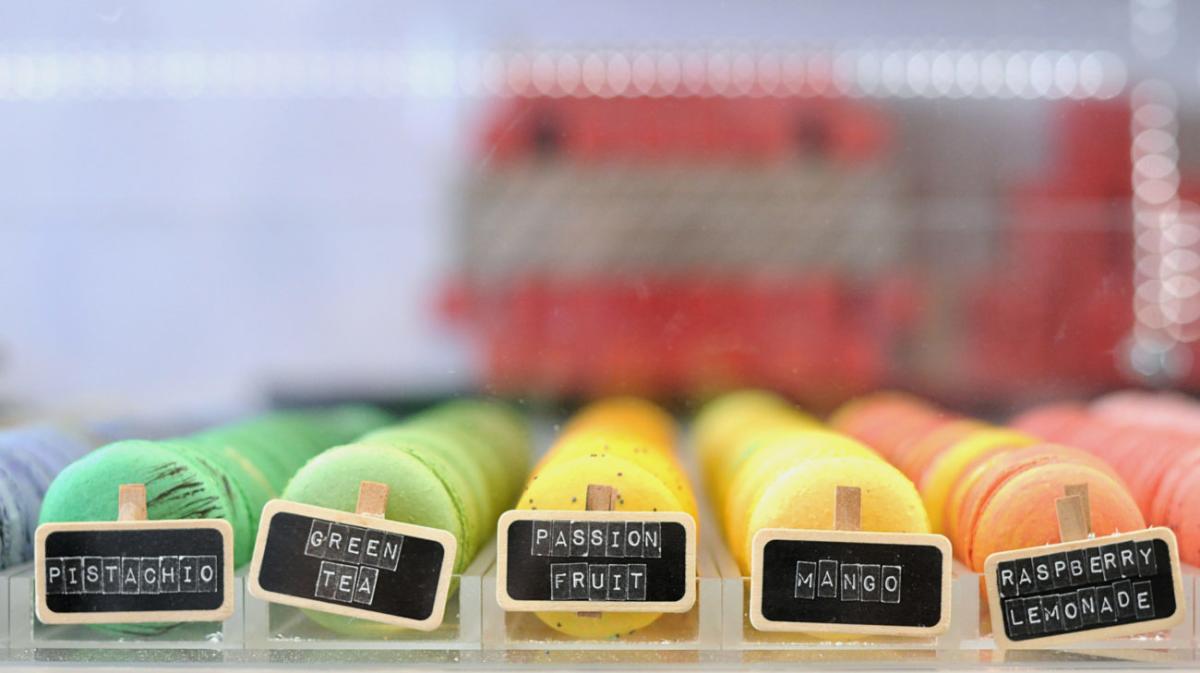 Explore: What are your favorite flavors and what are most popular with customers?
Lan: Before I was pregnant I didn't like chocolate or anything of that sort. I'm a weird baker [laughs]. Then I got pregnant and nutella, chocolate, it became my favorite – oh my gosh, I have to have them everyday [laughs]. Whenever I made them at bake club, Rose Lychee is our best seller.
Jack: Rose Lychee is definitely our best seller. They battle each other. Pistachio.
Lan: I like Coffee the most. Nutella.
Jack: Coffee, Nutella, Green Tea, Black Sesame. They kind of rotate.
Lan: In Earl Grey we use a White Chocolate infused with a tea, so that one's a little extra special.
Jack: I like the Salted Caramel, myself. We make the Caramel in house so I really like that. We taste the flavors every day. It's usually Salted Carmel or Pistachio where I eat the whole thing.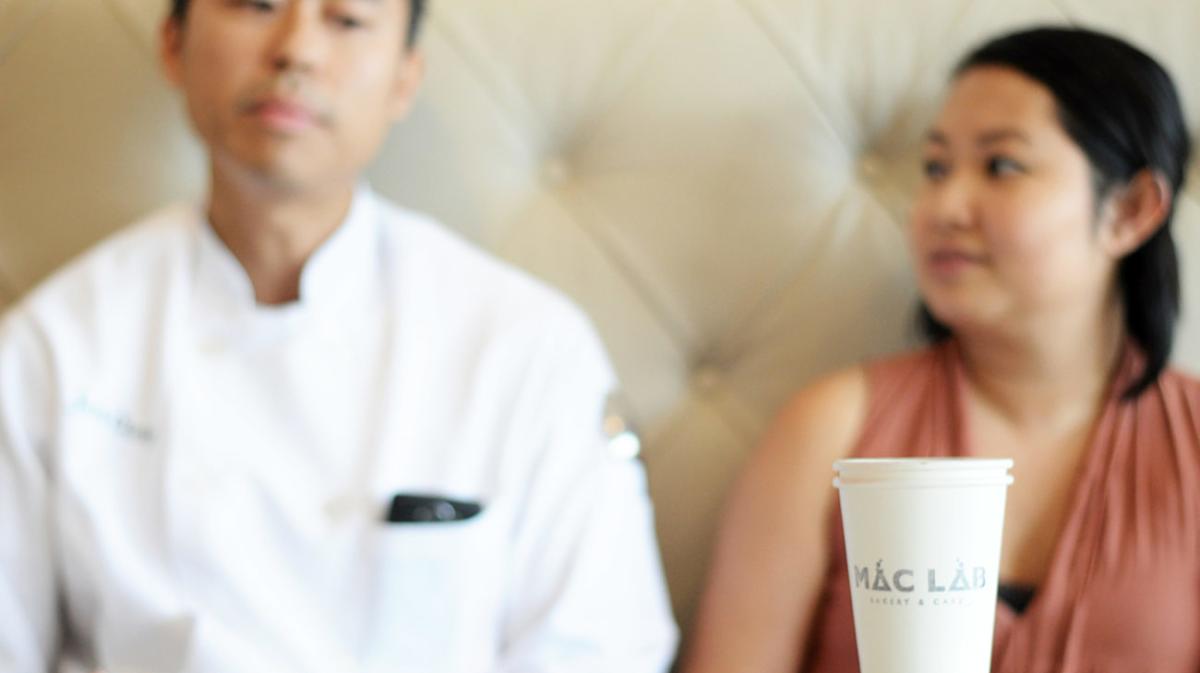 Explore: Both Mac Lab and Ming's have rave reviews online. What do you think it is about your businesses that draws people in?
Lan: With Mac Lab, I think when we scale it down to this intimate space, we are able to communicate with the customer on a more personal level. We try to keep the space very carefree, not too cluttered. I think when people come in here, they can feel inspired to work on their laptops.
Jack: Yes we have people stay here for 6-8 hours working, the whole day. A lot of people like studying here.
Lan: I think people can taste the authenticity and the love that we put into our products. We don't have a mass menu like other bakeries.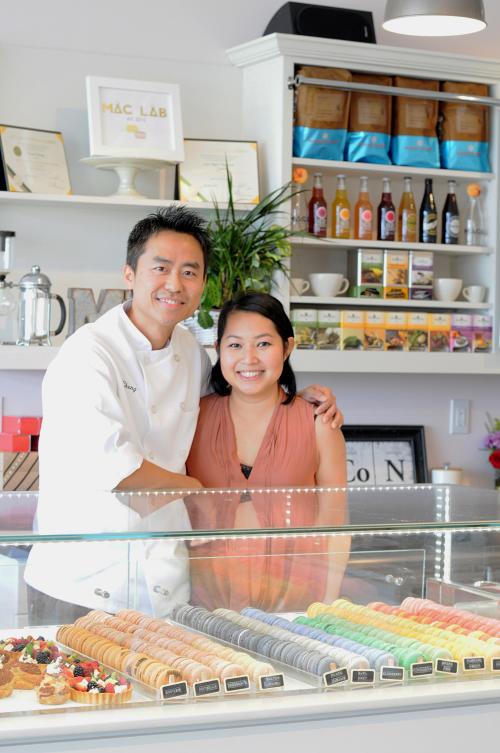 "I think people can taste the authenticity and the love that we put into our products."
Jack: I think that might be one of the minor frustrations, reading the Yelp reviews. She reads it all day. Like this one customer is asking why we don't have 20 items to choose from and someone else comments, "If you only knew how much effort it takes to make a macaron."
Lan: Yeah, Yelp... It's one of those things. Wow, people can be really cruel. I think one really hit me was "Oh for two dollars, it's not the elixir of life. I'd rather go to Krispy Kreme." I was like, well you can't really compare apples to oranges.
Explore: All the reviews I read were good!
Lan: I was pregnant too, so I was hormonal [laughs].
Explore: Where are you from originally?
Jack: I was born in Hong Kong. I'm Chinese and came to the U.S. when I was very young. Just moved around the country a little bit and settled in Duluth when I was 10 or 11 years old. So I've been here in Gwinnett maybe 20 years now.
Lan: I'm originally from Vietnam, and we lived in Gwinnett ever since we came to America. I was eight years old.
Explore: Do you know how your families decided on Duluth?
Lan: My dad likes land, so he knew he wanted a big yard to plant vegetables and things like that. Before we lived off Beaver Ruin, and it was OK, but it was getting a little more crowded, so they just started migrating up north. It was Suwanee but they changed the name of the area – now it's called Sugar Hill. They really like to stay close; wherever there is more land, that's where they like to stay.
Explore: How have you seen the area change since you've been here?
Lan: Gwinnett is starting to feel more like a community. Before it seemed so fast and big, but now I think with little events going on – there's Duluth Downtown, the food trucks, Fall Fest, Suwanee has their farmers' market. It's a nice little pocket. People know Gwinnett now. This road [Pleasant Hill] has become a big melting pot. Whatever cuisine you would like, it's probably on Pleasant Hill. It's pretty cool. It drives a lot more people from downtown to come up to visit.
Explore: Where do you take family and friends that come visit?
Lan: Definitely to restaurants up and down Pleasant Hill. I like downtown Duluth – Crave Pie is good. McDaniel Park. Head back to Pleasant Hill to eat [laughs].
Explore: What about you guys? What do you do on your days off?
Jack: I like to spend time with our daughter. Her name's Madeleine; we named her after a cookie [both laugh]. We just kind of drive her around and eat lunch.
"Her name's Madeleine; we named her after a cookie."
Lan: Take pictures of her [laughs].
Explore: Where do you find creative inspiration?
Jack: It just pops in my head sometimes. Like last week, I said, "We should do a pop rocks macaron." I don't know if we can pull it off. Sometimes just seasonal stuff. Like fall is here, so we're rolling out a pumpkin spice macaron.
Explore: What about the creative inspiration for the décor?
Jack: She can totally answer that because she designed this whole entire place. I'm still amazed by it. Every morning I walk in here like, it's still really awesome.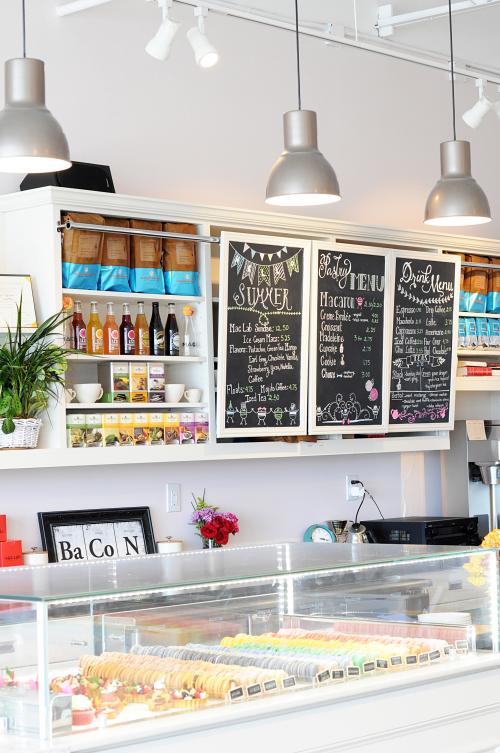 "Every morning I walk in here like, it's still really awesome."
Lan: Thanks [laughs]. Jack and I like to travel to places that have really good food. We didn't get a chance to do a honeymoon, so when I got pregnant we were like, "Let's do a foodiemoon instead of a babymoon." Italy is the capital of everything delicious, so we went. I kind of just followed my taste buds. Like I really like this pastry at this place that Pinterest told me to go. It would be like a little corner of the display case – "Oh, I really like that corner," and I would take a picture of it. I started seeing the same trend. I was very attracted to clean, white lines. Macarons are colorful, beautiful, desserts and having a nice, clean slate for them to pop would make them even more beautiful. I wanted to create a place where you feel like you just stepped into your own house, your own kitchen, but a cleaner version. I thought if I had my dream kitchen, what would it look like? I always loved gray – gray is the new black. I wanted to make it a little girlie. You can't really notice, the slight pink versus the white on the walls. Everything neutral. I didn't want too much crown molding or too cluttered. Just white on white on white. I can't take all the credit, Pinterest helped. Now I'm getting into event decorating. Recently we had Mercedes 40th anniversary party.
Jack: They invited us to help out with that. We put together two macaron towers.
Explore: What do you think about the Gwinnett restaurant scene? How do you see it looking in five years?
Lan: It would be nice to have that community of support within local businesses. I hope that keeps thriving. I feel like it will. If there was a better way for businesses to connect with each other ... Like, "Oh you need bread for your sandwiches? We got you!" I would like that more of a community feel to it.
Jack: We focus on not mass-producing our stuff. Everything is handmade. Everything is from this kitchen.
Lan: We have a soft spot for Mom n' Pop shops.
Explore: What about you guys? Future plans?
Lan: We had a great opportunity to expand downtown to Ponce City Market, which is a huge honor. We hope when the time is right, we can have that chance again to open downtown.
"Everything is handmade. Everything is from this kitchen."
Explore: What would you do with one million dollars?
Lan: Oh I know. I would definitely want the kitchen in the movie It's Complicated. Ohhh. Like for her to whip up that croissant in the middle of the night. All that equipment is very pricey. The space is still really cute. I want to have all that, and I want to meet more likeminded people that have that dream. It gives me great joy to sit and look at what you love. Not all people get the chance to. Then move to Italy.
Explore: [To Jack] Does that sound like a good plan for you?
Jack: Oh yeah, oh yeah. What's good for her is good for me [laughs].
"What's good for her is good for me."
Explore: How many cups of coffee do you drink a day?
Lan: I have two. Two iced lattes at least. You [Jack] are … three cappuccinos.
Jack: That's the minimum. I have three cappuccinos, two drip coffees, and probably four shots of espresso.