In case you haven't heard, food and beer tours have made it to Gwinnett.
Explore Gwinnett has partnered with Justin Hall, owner of Southern Culinary Tours, to showcase Gwinnett's growing list of breweries. Justin started his tours in Atlanta around eight years ago and has always wanted to expand to the suburbs because it is a long term goal of his to expand across the southeast.
 Each month there are two tours, one on the second Saturday of every month and one on the fourth Saturday of every month. The second Saturday tour is a bus tour that takes you to three different breweries and the fourth Saturday tour is a walking/food tour in Downtown Lawrenceville.
We sat down and asked Justin a few questions about Southern Culinary Tours so grab a beer and get to know a little more about your new favorite tour guide:
How Did Southern Beer Tours (SBT) Start?
Justin and two friends were in their late 20s searching for careers that involved something they loved...beer. They were too broke to start a brewery, so they did the next best thing and started offering brewery tours. They wanted the name of their company to capture the southern vibe and attract people to Atlanta.
At the time, Atlanta only had about five breweries but now there are 65 total and growing. At the beginning, SBT only offered one tour a month and that has grown into multiple tours every week. Along the way they've added popular custom private tours. Today, Justin is the sole owner of Southern Beer Tours because his two co-founders eventually moved onto other things.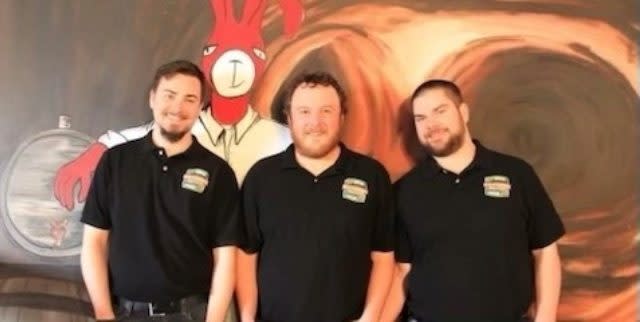 Robert Mills, Justin Hall, Jonathan Oliver.
What worked? What Didn't?
When Southern Beer Tours launched Justin and his co-founders made the mistake of thinking that all they needed was a website. They initially had a build it and they will come mentality. They quickly learned that was not the best path to success, so they put up posters everywhere they could think of. They started focusing more on marketing to draw people in and keep them coming back. Also, a few years back Justin tried to launch a beer tour in Athens, GA but it just wasn't the right time. Currently, Gwinnett is the only OTP tour he offers. Today, Justin has a staff of tour guides that run the tours for him so multiple tours can take place on a given day. He has also developed a strong relationship with vendors around Atlanta including bus companies. 
What is your favorite part of owning a beer tour company?
Naturally, Justin's favorite part is trying new beer and meeting new people. He is always visiting breweries to network with brewmasters and share benefits of partnering with Southern Beer Tours. People from all over attend his tours and he loves chatting with them each week.  Atlanta's breweries have kind of become an office-away-from-home for Justin. He even does job interviews at local breweries!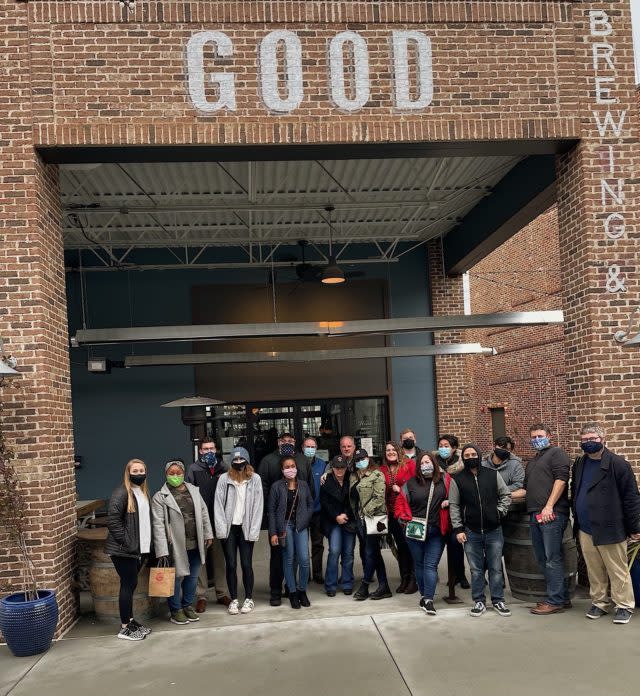 First Gwinnett Beer Tour at GoodWord in Duluth
What is the Future of Southern Beer Tours?
Obviously getting back to where he was pre-pandemic is his main goal, but outside of that he would love to offer his tours all over the South. Craft beer is still emerging in the southern states and has a long way to go compared to other regions. California has seen its brewery count consistently grow for more than 40 years but Georgia's brewery boom is still in its early stages. Georgia now has over 100 breweries across the state, and we are seeing more open every day. San Diego has a similar footprint to Atlanta as far as population and size, and they have over 200 breweries so there is potential for Atlanta to be on that same path. 
How Did You Become Southern Culinary Tours?
During the Pandemic, he was given the opportunity to purchase a food tour company in Atlanta. Justin thought it would be the perfect complement to his beer tours, as their feature tour is a Food and Cocktail tour through Midtown. The food tour company he purchased was formerly known as Peachtree Food Tours and then later Flavors of Atlanta Food Tours. In 2022 his team rebranded both the food tour company and beer tour company to become Southern Culinary Tours. Guests can now experience this food tour in Downtown Lawrenceville. 
 Be sure to check out his website for more information and buy a ticket for a Gwinnett Beer Tour! Cheers!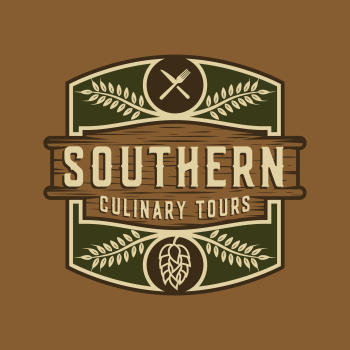 Post by Clara Rooks / updated 5/23/22

Clara lived in Dacula for 14 years before moving to Bethlehem with her husband and Goldendoodle, Sadie. She loves to get a book from the local library and take it to one of Gwinnett's many coffee spots. Outside of work you can find her fishing with her husband, going for a run, getting smoothies or hanging out with family.