Did you know that sushi originally began as a fast food option? It was a quick and easy choice that has now turned into fine dining with some rolls costing up to $500.
Even though sushi originated in Japan, the good news is that Gwinnett has a wide variety of authentic sushi options for you to choose from. There are thousands of different types of sushi rolls in the world. Each restaurant offers their own unique roll along with some of the most common rolls. Whether you like it fried, raw, topped with crab or lobster you can find it right around the corner from you. We have put together a list of the best sushi places for you to try. 
Fumi Hibachi & Sushi Bar (Duluth)
Fumi, which is known for their sushi, offers a vibrant atmosphere that is fun for you and your family to enjoy. Try the Yami Yami Roll which consists of tempura shrimp, crunchy crab, avocado and fried escolar wrapped with soybean paper. They also have a full Hibachi section  and a large functioning event space available to rent for any occasion.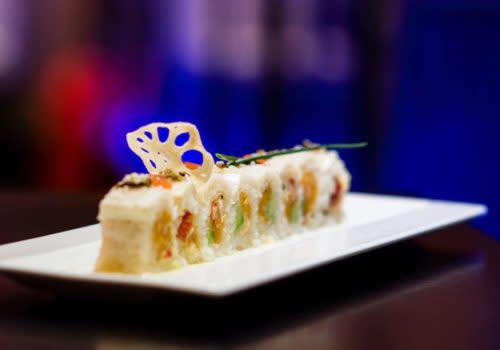 AHA Sushi (Lawrenceville)
At AHA Sushi you can expect fine Japanese dishes mixed with a large sushi menu. If you like salmon then check out the Smoked Salmon Katsu Roll. This roll is made up of Kanikama crab, avocado, cucumber rolled, smoked salmon katsu fried and a special sweet sauce. 
Fukulala Sushi (Suwanee)
The chef at Fukulala has decades of experience that he brings to their hand crafted menu, which has sashimi fresh from all seven seas. One of their most popular rolls is the Peachtree which has spicy tuna and crunch on the inside and is topped with avocado, eel sauce and spicy mayo sauce.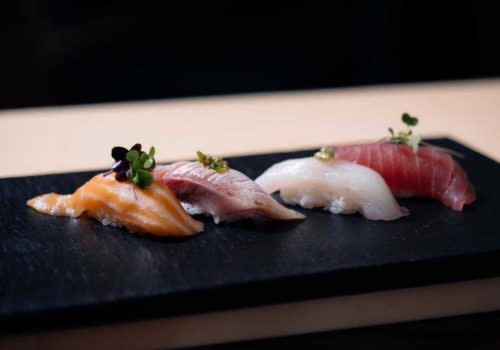 Haru Ichiban (Duluth)
All items are served family style at Haru like it would be if we were in Japan. Take your family to try the Georgia Bulldog Roll together. This specialty roll is packed with scallops, crabstick, masago and mayo on the inside and is topped with avocado, scallion, sesame seeds and eel sauce. 
Doshi Sushi (Duluth)
Doshi has a 60ft long sushi bar so you know this place takes sushi seriously. Their Lobster Roll not only looks delicious but has delicious ingredients. This roll features fried lobster, avocado, cucumber, snow crab, eel & white sauces, spicy mayo and red tobiko. 
Sushi Osawa (Peachtree Corners)
Osawa prides themselves on making sure their sushi not only looks good, but tastes good. If you like spicy things then try their Spicy Tuna Crispy Rice Roll. They place spicy tuna on lightly fried crispy sushi rice with sliced jalapeno. 
Sushi Niko Niko (Buford)
With over 55 sushi rolls to choose from at Niko Niko you are guaranteed to find a roll that fits your taste. One of their most popular fried rolls, The Crazy Boy Roll, has crab meat, avocado and cucumber on the inside then is topped off with fried tempura sauce. 
---

Post by Clara Rooks

Clara lived in Dacula for 14 years before moving to Bethlehem with her husband and Goldendoodle, Sadie. She loves to get a book from the local library and take it to one of Gwinnett's many coffee spots. Outside of work you can find her fishing with her husband, getting smoothies or hanging out with family.