This summer we have been exploring the family side of Korean restaurants around Gwinnett. Whether it is comforting stews, home cooked casseroles, soups, or seafood dishes, I tried to focus on some of the less well-known dishes of Korean cuisine. Thanks to a newly opened location in Duluth, you cannot talk about home-style Korean food without trying Yet Tuh.
Yet Tuh began as a modest establishment in a small space along Buford Highway in the remnants of the older Koreatown. Since many of us rarely have an opportunity to venture that way, we are fortunate to have their second location conveniently located in Gwinnett.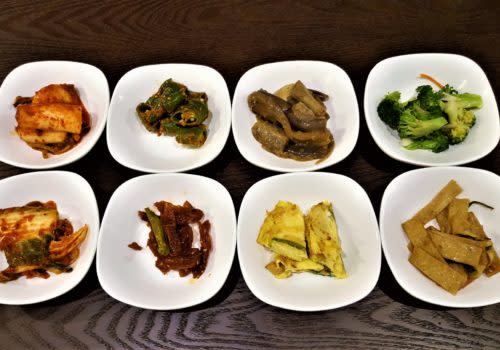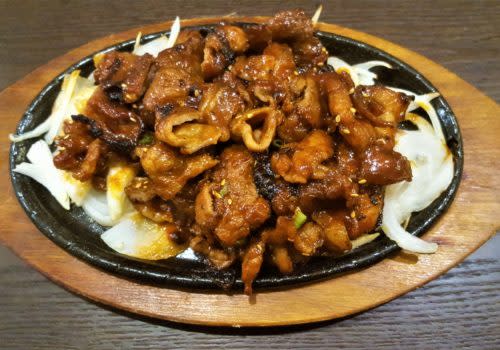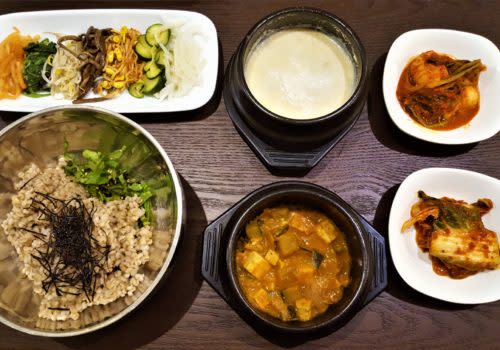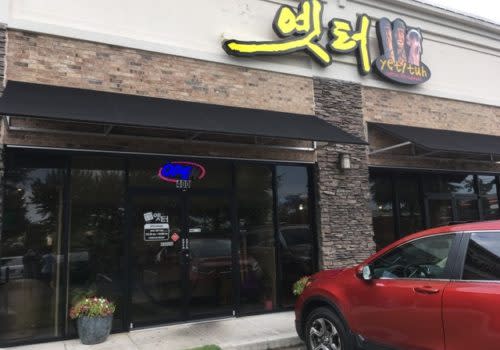 The hallmark of Yet Tuh is their banchan. Usually an afterthought in some establishments, the side dishes here are really special. They offer a fresh flavor that reminds the diner of a meal at mom's home. Their entrees are equally as impressive. They offer marinated grilled pork rib that really hits the spot, especially when paired with rice and the vegetable sides. Also, popular is the boribap jungshik, a boiled barley offering with pickled kimchi and vegetables that are mixed together in a bowl. Accompanying this dish is a healthy course of delicious soybean paste soup, a creamed soybean soup known as kong biji.
The highlight of a trip to Yet Tuh is that with a day's notice, the restaurant prepares gujeopan, a platter with nine sections representing the regions of Korea. The dish comprises of eight fillings; finely cut lightly cooked vegetables, meats, and omelet which is served wrapped in wheat pancakes with a mustard based spiced sauce. The wraps are light, full of texture and flavor, and they're very healthy. You really get a sense of tasting a bit of Korean history with trying this dish.
Unlike the first location, Yet Tuh Duluth is a large space with seating for parties of all size. There are several semi-private rooms on the side for families or small gatherings. Rarely, have I experienced a restaurant with such a diverse menu and quality across the board. That is definitely what makes this dining experience in Duluth unique and highly enjoyable.
---

Post by Sarah Park
Sarah Park is native to Korea, and she loves food. Community involvement is something Sarah is very passionate about.
She hosts a weekly segment on Atlanta Radio Korea informing the Korean community of local events and programs as well as new openings and hot spots for different types of cuisine.
Sarah serves on various advisory committees including the Korean Food Global Association Southeast and the Atlanta International Night Market. She also served with Atlanta Food Service Expo and has been recognized for her global food initiatives.
Currently a Gwinnett resident, Sarah is a true foodie who enjoys all types of cuisine and traveling to sample different tastes from regions around the world.