Karaoke, K-Beauty, and bibimbap are all mere touchstones of Gwinnett's vibrant Korean community. Ready for a deeper dive?
Eat
Mild
Cafe culture among Koreans rivals that of the French and Italians. One thing to note before sinking your teeth into an enticing pastry at Tree Story Bakery & Cafe: While undeniably delicious, Korean baked goods air on the savory side. Individually wrapped treats, ranging from sweet potato bites to soboro (Korean streusel), fill baskets inside this inviting Pleasant Hill Road standby. Pick a few and pay at the counter, where you can also fill up on Intelligentsia coffee or boba tea.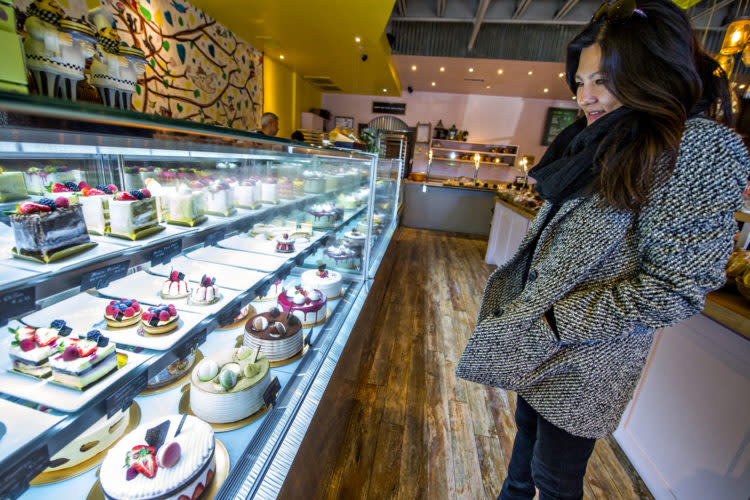 Medium
For authentic Korean comfort food—akin to what you might eat in a traditional Korean household—head to Jang su Jang on Satellite Boulevard. After taking your order, your server will shell out nine varieties of vegetable accoutrements, including three varieties of housemade kimchi. Look but don't touch. Koreans partake in family-style feasts,and it's customary to wait until all dishes are served before digging in. Order soft tofu soup, rice,and a protein like the succulent galbi jjim (braised short rib) and proceed as follows: bite of rice,spoonful of soup, bite of meat,nibble of vegetable. Repeat, using chopsticks, until satiated. Spoiler alert: You won't want to stop
Wild
If the words "rice cake" have you thinking of the disc-like grocery store snack, think again. Korean rice cakes are small, dense morsels molded into various shapes and tinted a kaleidoscopic array of colors.They're a feast for the eyes, but their taste—chewy and decidedly unsweet—is acquired. Grab a plate and pluck a few from the buffet table at Nak Won Rice Cake near Gwinnett Place Mall. If your palate demands something sweeter, pair them with citron tea or misugaru, a delicious honey-sweetened smoothie of powdered grains and milk.
Shop
Mild
Savvy travelers know that one of the best places to experience the pulse of a place is its grocery store. Grab a cart at Super H Mart and fall in line with the throngs of Korean shoppers. Here you can load upon Korean kitchen staples like dried anchovies and kabocha, a pumpkin-like squash. 
Medium
You too can achieve the dewy glow made famous on YouTube beauty channels with a visit to cosmetics shop Aritaum. K-beauty is a vast and varied world of creams, masks, cleansers, serums, scrubs,and jellies, but the store's staff is hereto help. "Customer service is key," Park says. "Don't be afraid to consult the skin pharmacist, who will help you find the product that fits your needs." BB cream, an all-in one sunscreen, moisturizer,and foundation filled with brightening botanicals, is a good place to start.
Wild
The last remaining Korean bookstore in the area, Word of Life Books is the spot to pick up a tome written in—or translated to—Korean. With everything from cookbooks to bibles, manhwa (comics) to kids books, the shop is stacked high with bound, printed material, but that's not all it offers. You can also pick up frames, mugs, jewelry, greeting cards, toys, and other gifts—all from Korea. Got kids in tow? They'll love the array of Kakao Friends gear. "They're basically the Mickey and Minnie of Korea," Park says.
Play
Mild
Visiting a communal, co-ed bathhouse, or jjimjilbang, is a ritual among Koreans, who often travel in multi-generational groups to rejuvenate in the hot tubs and saunas. Beyond both the men's and women's locker rooms of JeJu Sauna lies an enclosed "wet" area where clothing is prohibited. Move between the heated whirlpool tub,cold plunge pool, dry sauna, steam room, and infrared heat platform to open your pores and unwind. Afterward, don the loose-fitting shirt and shorts you were given at check-in and wander to the co-ed area, where you'll find nine saunas, each with a different healing element, from charcoal to jade.
Medium
Even timid troubadours will revel in Korean karaoke, which is something of a safe house compared to the American version. Bring a few friends and reserve a private room, where you can belt out ballads by the hour in the comfort of your own private music studio. Good bets include DoReMi Karaoke, Chimaek, short for chicken and beer, is the preferred fuel for this melodious pursuit, and you'll have a dedicated server to dole out plates of crispy, crunchy, Korean fried chicken. A cultural norm to keep in mind if you're among locals: Only sing the first few verses of a song to make sure everyone gets their time with the mic. "Koreans are courteous in this way," Park says.
Wild
Take your JeJu Sauna visit to the next level with a proper exfoliation. Several massage-style tables are set up in a closed-off corner in both the men's and women's spa areas. For $50 you can get a professional body scrub, or demadi, which goes something like this: A clothed attendant lathers up an exfoliating glove and scrubs you from head to toe, masterfully sloughing off dead skin. A 30-minute hot tub soak is recommended beforehand to soften the skin, maximizing the experience. Afterward, rise, rinse, and bask in self-renewal. You'll never be more excited to show off your birthday suit.
---
This article, written by Alison Miller, originally appeared in Volume V of Explore Gwinnett Magazine
What's Happening in the Seoul of the South