"Art is something that makes you breathe with a different kind of happiness." - Anni Albers Take a moment to explore the exceptional public art that is available at your fingertips right here in Gwinnett.
Murals in Gwinnett
Gwinnett has fantastic public art on display for all to see. This is by no means a full list of Gwinnett murals but you can click here for more murals. Folks love to take pictures with our murals, so take a virtual tour via social media below or check them out yourself in person! 
NORCROSS - "TUMBLEFIELD" AND "GREETINGS FROM NORCROSS"
Two artists, Lauren Pallotta and Jon Graham, transformed Skin Alley in Norcross with their mural, "Tumblefield." These playful foxes are sure to put a smile on your face. Tumblefield is currently the storefront for Norcross's first brewery appropriately named "Social Fox" Brewing.  Located near 20 Skin Alley, Norcross, GA 30071
Atomic Wash, a Norcross-based digital marketing and branding agency, designed and donated the concept for the "Greetings from Norcross" mural. The design celebrates 8 iconic people and places in the city's history, becoming a piece that is both aesthetically interesting and educational for visitors and residents alike. Located near 7 Jones St NW, Norcross, GA 30071
DULUTH - "THE CHOCOLATE LADY" AND "THE COSMIC TUNNEL"
In downtown Duluth, you'll be greeted by "The Chocolate Lady." She resides on the side of The Chocolaterie (naturally), and depicts some of the beautiful handmade truffles you can find inside the store. Located near 3099 Main St, Duluth, GA 30096
"The Cosmic Tunnel" is an interactive and educational mural that shows the size and spatial relationship between the planets of our solar system, as well as their orbital paths. Located at Bunten Road Park, 3180 Bunten Rd, Duluth, GA 30096
Also located in Duluth is Fanfare (3116 Main St, Duluth, GA 30096), Duluth Identified (located on the Southbound side of Peachtree Industrial Boulevard) and Dream Big (located along Hill Street).
SUGAR HILL - SWEET LIFE
The city of Sugar Hill's mural is calm and serene, just like the city itself. Enjoy the beautiful scene of a sunset. Located near 4988 W Broad St NE, Sugar Hill, GA 30518
SUWANEE - #SUWANEE AND SUWANEE GATEWAY MURAL
Alexandra Sorto, who was 17 at the time, painted the beautiful #Suwanee mural that resides in Suwanee. The giant mural reflects the city's past and offers a glimpse into its future. Located near intersection of Lawrenceville-Suwanee Road and Buford Highway
Holtkamp Heating & Air created murals on the sides of their new headquarters on Interstate 85 at the Suwanee Gateway. The mural first features Settles Bridge, representing the past and pulling the viewer into the mural. As they traverse the bridge, this metaphorically leads the viewer into the present and the iconic Suwanee City Hall that serves as the center of the community today. A secondary mural on the south-facing side of the building captures the energy and vibrancy of the music, arts, and parks scene in Suwanee. Located at 60 Old Peachtree Rd NE, Suwanee, GA 30024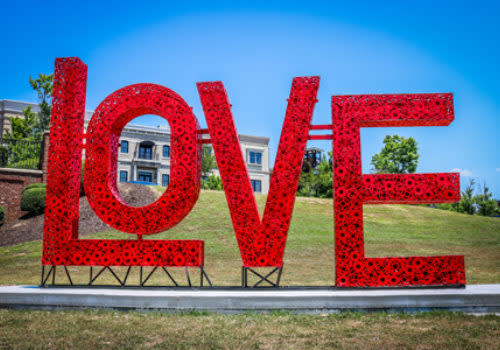 Suwanee SculpTour / I Arted in the Car
The City of Suwanee has put together a comprehensive list of public art in the city which can be viewed from the comfort of your own car with I Arted in the Car! If you want to stretch your legs, head to Suwanee Town Center and take a SculpTour of the public art offerings on-site which include several rotating sculptures and a few permanent pieces.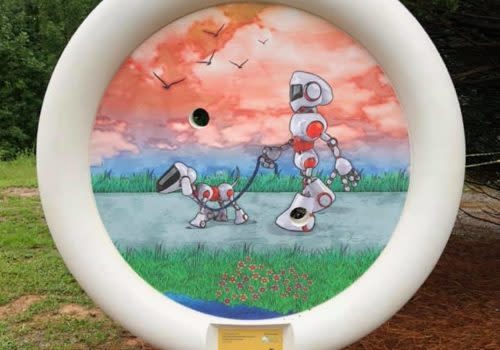 Button Art at Corners Connector Trail in Peachtree Corners
Take a walk through Peachtree Corner's new multi-use trail system and enjoy some public art along the way. There, you'll find the first of 6 Button Art sculptures for Peachtree Corners, the first of which is known as "A Bot's Best Friend" and created by local artist Lance Campbell. Wanna see more buttons? 
Click here for a list of other Button Art throughout Gwinnett.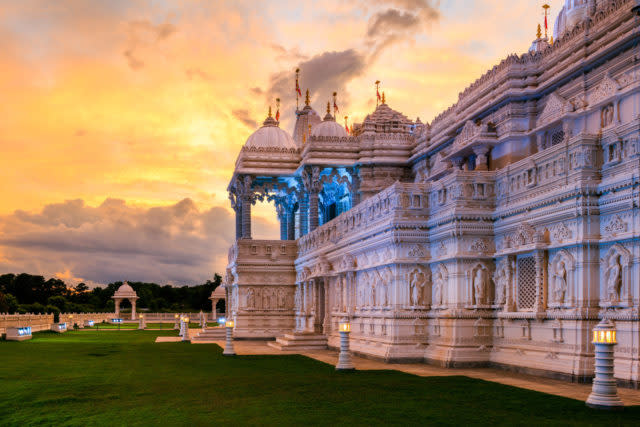 Artistic Architecture
The awe-inspiring architecture known as the BAPS Shri Swaminarayan Mandir will drop your jaw as you pass the unexpected structure along Hwy 29. in Lilburn. Hand-carved (yes...you read that right. Hand. Carved.) this modern marvel's beauty is unmatched. 
Looking to visit? Be sure to read our Know Before You Go Guide.
---

Post by Hailey Powell (She/Her)

Hailey is a native of Amelia Island, FL before moving to Georgia with her fiance. She loves to traverse picturesque downtowns searching for the closest local book and thrift stores. Outside of work you can find her enjoying a matcha latte while hiking, going to the movies, or traveling.