We sat down for a Q&A with Chaunda Walls who is the owner and creative director of Tupelo Rose Candle Boutique, an online candle store that specializes in unique candle scents. She also sells wax melts, warmers, and tools for your own candles. It is important to her to create a candle that means something or has a special message behind it. She hopes her candles evoke beautiful memories and create a sensory experience for relaxation and reflection.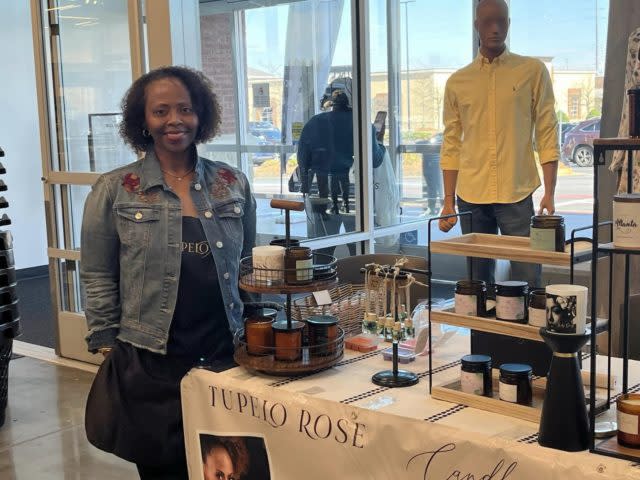 Q: How did the business get started?
A: "There are some moments in life that move you in a monumental way. The birth of Tupelo Rose is one of those moments for me. My story actually began with a 120-pound weight loss journey. I struggled to lose weight after a traumatic childbirth experience in 2001. I wouldn't find my way back to health until 2007 when I finally embarked on a major life-changing journey in which I lost 120 pounds through diet and exercise and started a company to help others do the same thing-The Bella Fitness Group. Fast forward to 2020 when the Pandemic hit and I was forced to take my fitness company business exclusively online due to Covid. This was a blessing in disguise because the time saved by working from home allowed me to create a second business that would bring so much joy, peace and well.... the start of a new destiny. This was the birth of Tupelo Rose Candle Boutique. 
I have always been a passionate collector of candles- the more exotic and luxurious, the more I loved them! I began researching and obsessively studying the craft of candle-making for almost a year and finally put fear aside and started making candles. What I discovered was the immense joy and fulfillment that candle making has brought me. I am a creative at heart. I love designing and bringing my visions to life. I combined all the things that I adore into the Tupelo Rose brand; all things life, love, hope, music, art, history, culture...and faith.
We create candles that mean something; Candles that say something; Candles that evoke feelings and moods that last long after the wax has burned away, just like a good book; candles that move something in the soul. Many of our collections pay homage to exceptional people who have left indelible legacies to the world, such as Bob Marley, Marilyn Monroe, President Obama, Dorothy Dandridge, Frederick Douglass, MLK,Jr., Zora Neale Hurston, James Baldwin and many others. We also offer candles that lift the heart like our Healing Soul Collection which highlights self love, healing of heart and mind; and our Ephesians 3:20 collection which honors faith, hope and God. "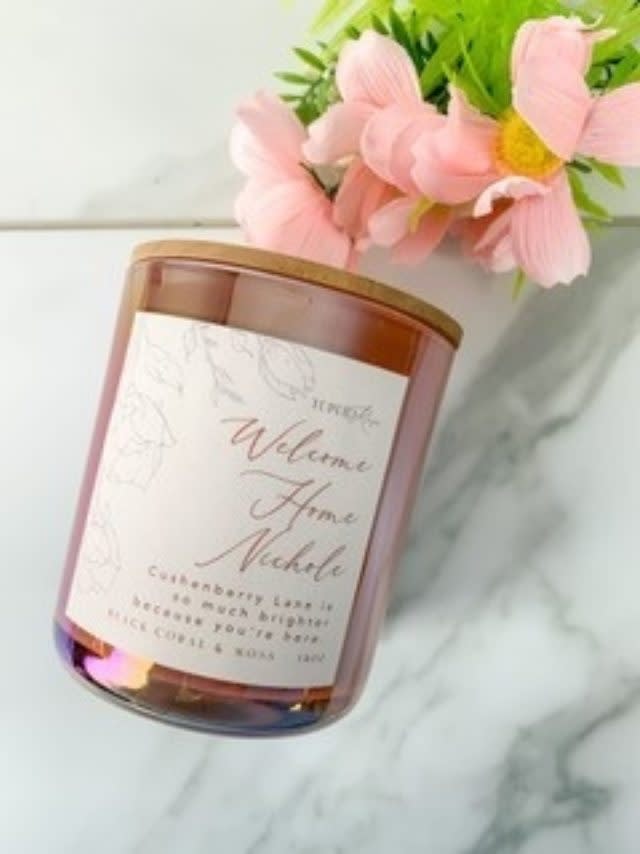 Q: What struggles have you faced?
A: "I started the company with no financial investors- just my own money, research and family support. That in itself is challenging. I would say the greatest struggle has been marketing and funding."
Q: What advice would you give to women wanting to start their own business?
A: "- Find something you are good at and passionate about- do that consistently every day. Work on it day and night and perfect your craft and define your own lane. It doesn't matter how many others are doing it, they don't have the YOU, that you have.
- Get a business Coach. My business coach, Chloe has been a Godsend for me since I started both businesses. You need someone to guide you and to bounce ideas off of throughout the growth process of your business.
- Keep the faith- entrepreneurship isn't for the faint of heart. It won't always be on the upswing, and you've got to build up the will and courage to stick it out during the lean times in order to fulfill your vision for your business."
Q: What is your favorite part about your job? what is the hardest part?
A: "I love designing candle experiences in a vessel! I love when God wakes me up with a new idea or a new incredible person to honor! That's my favorite part- getting the vision, then building out an entire candle board for that idea and seeing it come to fruition- from God's vision, to the art for the label, the hand-blended scent design, the vessel choice and the storyboard for the photos.
Hardest part: Marketing, marketing and marketing. I am a creative and really need help with marketing lol. Getting the word out about how amazingly unique Tupelo Rose candles are is challenging."
Q: What goals do you have for Tupelo Rose Candle Boutique?
A: "Currently our candles are featured in 3 African American Museum gift shops across the Country and I am VERY proud of that!~ My goal is to have our candles sold in EVERY museum in the country and across the world. I am also working on retail partnerships as well. If Oprah, could get a hold of one of our candles-maybe the Maya Angelou/Phenomenal Woman tribute candle..I think that would be a mighty fine dream come true. :-) "
Be sure to check out her online store and order a candle. 
Explore Gwinnett continues to make an effort to promote local minority-owned, LGBTQ, and women-owned businesses. To support this initiative, we are writing blogs focusing on owners and telling their stories. Click here to read more Local Love stories.
---

Post by Clara Rooks

Clara lived in Dacula for 14 years before moving to Bethlehem with her husband and Goldendoodles, Sadie and Tally. She loves to get a book from the local library and take it to one of Gwinnett's many coffee spots. Outside of work you can find her fishing with her husband, going for a run, getting smoothies or hanging out with family.