We sat down for a Q&A with Tola Mak who owns quite a few businesses here in Gwinnett. He owns Polished Nail Salon, Sugarloaf Salon and Suites, Peche Modern Coastal, Parkside District, and Stage Kitchen and Bar. You might have been to one of his businesses and not even known it. Read more about his story below and how he got started.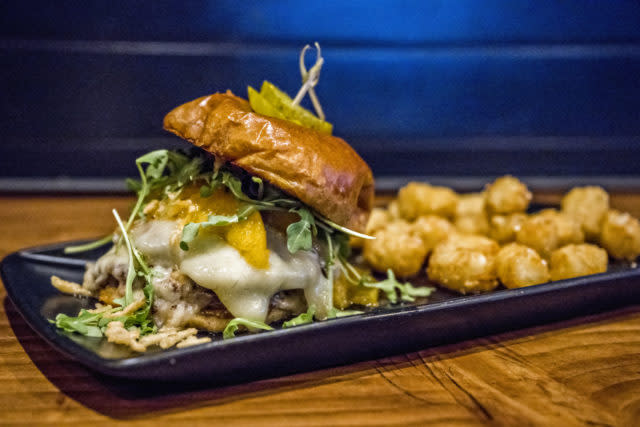 Q: How did the businesses get started?
A: "I love food and everything about it. I went to Le Cordon Bleu in 2003 to pursue my career in the culinary world. I didn't finish and dropped out. Took a hiatus, went into the beauty industry for the next 10 years, and didn't return to food till 2014. Well, it all started when I had the opportunity to join a partnership in a restaurant in Chamblee(the Bayou Boil) now closed down. I was a silent partner in the deal and saw immediately that things could be better with food and service, but being silent that didn't give me an opportunity to try and help. I then started planning my journey to own a restaurant of my own. I teamed up with my brother-in-law at the time to plan and develop the concept of Parkside District. This took about 2 years in the making but eventually got it open. And the rest followed."
Q: How does your ethnicity play a part in your business journey?
A: "I think being a minority has its advantages of being able to interact on all levels with staff and customers. Being Asian American I guess you can say that we're pretty much people pleasers in business. We will do anything to make people happy generally speaking."
Q: What struggles have you faced?
A: "Being new to the business I was faced with all of the possibilities of failure. I've never really actually worked in a restaurant and it showed clearly at the beginning of the business. Trying to find great leaders was always one of those really hard things to find and it took many years to actually find one."
Q: What advice would you give to others wanting to start their own business?
A: "Link up with someone that will help mentor them. Someone that in the field already and is successful. Mimic other successful brands and follow what they are doing. Failure is the only way to get better and don't be afraid to try it again. Lord, I can go for days with advice. Just tell them to call me how about that (Serious about it). I love helping others and building the community."
Q: What is your favorite part about your job? what is the hardest part?
A: "The most favorite part of my job is developing new concepts and ideas. The hardest part is probably the building stages of the business. With so many things to do at the same time and with little time, we normally have. The clock is ticking once that lease is signed. Every day it cost us money and the longer it takes the more money we are losing. Timing is very important and without a lot of knowledge, you could be losing hundreds of thousands with simple mistakes."
Q: What goals do you have for your career?
A: "Well, we plan on becoming the largest privately owned restaurant group in Ga. We just signed on another location at the Grove in Snellville, and we are also days away from closing on 3 more leases as well. Their locations will be Chamblee, Dunwoody, and Atlanta. In five years we should have about 15-20 restaurants under our umbrella and we don't plan on stopping there."
Explore Gwinnett continues to make an effort to promote local minority-owned, LGBTQ, and women-owned businesses. To support this initiative, we are writing blogs focusing on owners and telling their stories. Click here to read more Local Love stories.
---

Post by Clara Rooks

Clara lived in Dacula for 14 years before moving to Bethlehem with her husband and Goldendoodles, Sadie and Tally. She loves to get a book from the local library and take it to one of Gwinnett's many coffee spots. Outside of work you can find her fishing with her husband, going for a run, getting smoothies or hanging out with family.