As the competition between all the Korean restaurants in Gwinnett heats up, many places have added lunch specials to entice customers to come in and beat the summer heat. Ranging from house specialties to limited time offerings, you are sure to get a good deal by exploring then throughout the week. K Factory on Venture Drive is popular for its Korean BBQ selection, but the menu has recently added a selection of tasty and healthy meals for $5.99 during lunch time.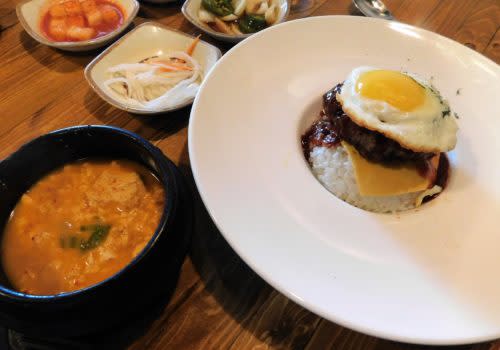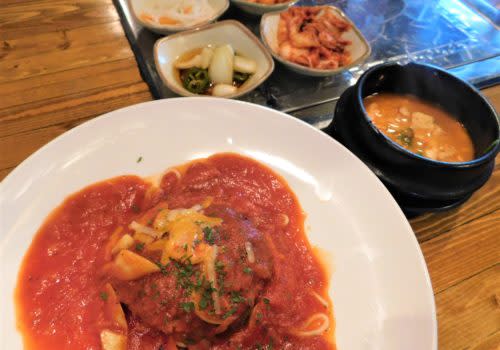 The menu items includes popular dishes such as bulgogi, bibimbap and pork cutlet curry, but it also offers some unique items such as a Korean-style burger and a seasonal bibimbap that uses Korean beef tartare as a protein. The entree is also accompanied by a small bowl of silken tofu soup that is slightly spicy and perfectly pairs with the main course. Known for its quality meat, the hamburger steak served on rice with a fried egg is hugely popular and reminiscent of the ever popular Hawaiian classic, the Loco Moco. 
There is also a full menu for regular BBQ such as the $16.99 all you can eat, but at $5.99 for lunch, this a great deal that cannot be beat. Do you ever get tired of salads or sandwiches at a fast food place? Then be sure to try a homecooked, hot meal at K-Factory in Duluth. It is easily one of the best lunch specials anywhere in metro Atlanta. 
---

Post by Sarah Park
Sarah Park is native to Korea, and she loves food. Community involvement is something Sarah is very passionate about.
She hosts a weekly segment on Atlanta Radio Korea informing the Korean community of local events and programs as well as new openings and hot spots for different types of cuisine.
Sarah serves on various advisory committees including the Korean Food Global Association Southeast and the Atlanta International Night Market. She also served with Atlanta Food Service Expo and has been recognized for her global food initiatives.
Currently a Gwinnett resident, Sarah is a true foodie who enjoys all types of cuisine and traveling to sample different tastes from regions around the world.