So there is a few really popular Korean dishes that have been hard to come by in Atlanta until now. One is finding a place that does bossam, slow cooked pork belly wrapped in a kimchi wrap with other types of kimchi condiments. There are some decent places around Duluth, but Jok Ga A Dong Chim, a new restaurant that is a chain in Seoul, has recently opened. This establishment offers some of the best bossam around. 
The pork is succulent and extremely tender. Also, what I think is the most important part of the dish is pairing it with really good kimchi sides that offer acidity to cut through the meat's richness and add balance. 
Another really popular dish is the Korean preparation of trotters or ham hocks. After being marinated in seasoning and a few secret ingredients, the tender pig's feet are slow cooked to provide a literal fall-off-the-bone texture with a little chewiness from the flavorful skin. There really are not many places that prepare this dish well outside of Korea, and we have definitely landed a gem with this establishment.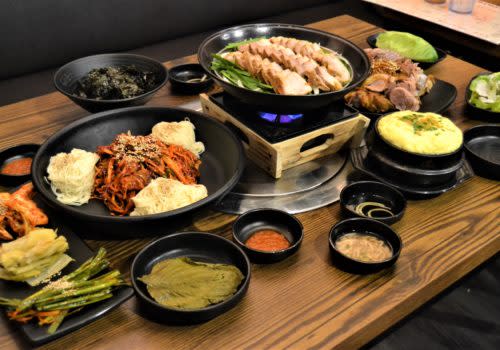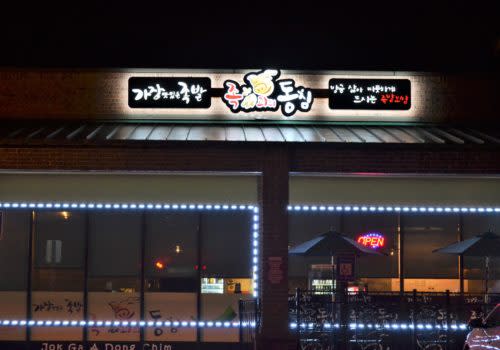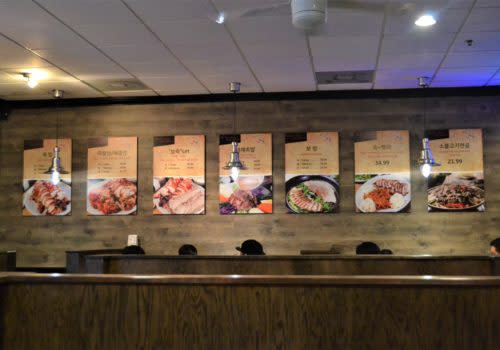 Other really excellent aspects of the meal include delicious vegetable sides,steamed egg and pickled sesame leaf. We also decided to try the thin noodles with spicy conch and vegetables.  Everything was terrific and even though I was full, I found myself going back for more.   
This new restaurant is located in a small shopping center on Satellite Boulevard next to the well known restaurant, Jang Su Jang. The interior is very clean and contemporary with design elements that are fairly common in Korea. The service was very friendly and the owner patiently explained everything while paying special attention to the service at all the tables. If I did not know any better, I would think that I am eating in a new place in the center of Seoul rather than Gwinnett County, Georgia. 
You always know that a place is going to be good when you see staff and chefs from other local area restaurants dining in a place. I highly recommend trying out Jok Ga A Dong Chim the next time you are in the area or just craving a new experience. You will not be disappointed. Just be sure to get there early as this popular place has been know to sell out of bossam and trotters on some nights. I know that I will be back soon and hungry for more.
---

Post by Sarah Park
Sarah Park is native to Korea, and she loves food. Community involvement is something Sarah is very passionate about.
She hosts a weekly segment on Atlanta Radio Korea informing the Korean community of local events and programs as well as new openings and hot spots for different types of cuisine.
Sarah serves on various advisory committees including the Korean Food Global Association Southeast and the Atlanta International Night Market. She also served with Atlanta Food Service Expo and has been recognized for her global food initiatives.
Currently a Gwinnett resident, Sarah is a true foodie who enjoys all types of cuisine and traveling to sample different tastes from regions around the world.