Gwinnett's vibrant Hispanic population makes the county a hub for delicious Latin food. At dozens of spots throughout the county, residents and visitors can support Hispanic-owned restaurants while sampling authentic eats, including Venezuelan (La Sabrosita), traditional Mexican tamales (La Mixteca Tamale House), empenadas (Mama Empanadas) and much more.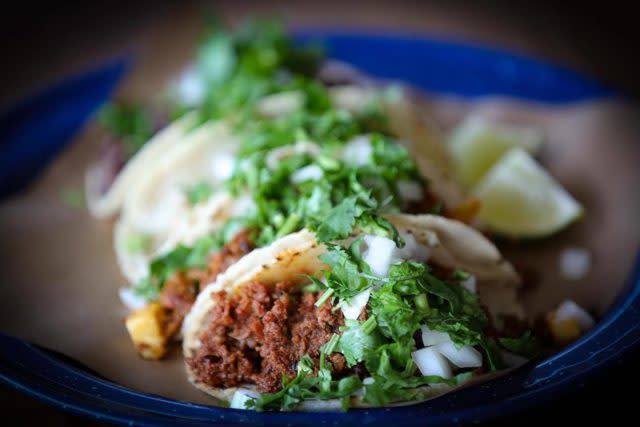 Photo credit: Oaxaca in Lawrenceville
La Mixteca (Oaxacan style tamales and entrees) - Suwanee
Alebrije Mexican Restaurant (Authentic Mexican dishes) - Suwanee
Frontera Mex-Mex Grill (Mexican) - 8 Gwinnett locations
Plazas Las Americas (Latino Shopping Mall with food court) - Duluth
Pal Loko Antojo (Ice cream and treats) - Duluth
Beto's Tacos (street tacos) - Suwanee
D'Luv Cake (cakes) - Duluth
The Caribbean Restaurant (Central American/North Caribbean) - Duluth
Celidas Cafe (Venezuelan) - Duluth
Antojitos Potosinos (Wraps/Tacos/ Plates) - Duluth
La Sabrosita Restaurant (Venezuelan Street Food) - Duluth
Mariscos + Cocos Dona Reyna (Seafood) - Duluth
Star Bakery (El Salvadorian pastries) - Duluth
Mi Casita Boricua Restaurant (Puerto Rican) - Lilburn
Panaderia Boricua (Puerto Rican) - Norcross
El Salvador Bakery (El Salvadorian) - Lawrenceville
Pupuseria Centroamericana (Central American) - Lawrenceville
La Salvadorenita Pupuseria Y Taqueria ( Salvadorian) - Norcross
Trigos Colombian Restaurant (Colombian) - Lawrenceville
Mama Empanadas (Dominican) - Lilburn
Tacos and Tequila (Mexican) - Buford
Oaxaca (Mexican) - Lawrenceville
Please let us know if there is an awesome Hispanic owned restaurant that we need to include! Email victoria@exploregwinnett.org.
*Note: Photos above are property of Oaxaca Tacos + Tequila Bar in Lawrenceville.