You may be surprised to find that Gwinnett serves as the location for countless popular (and excellent) movies and shows.
We have a few suggestions for you to add to your streaming queue. And the cool thing is, they all have scenes that were filmed in Gwinnett. 
Ozark
One of Netflix's buzziest dramas, the Jason Bateman-helmed Ozark, films extensively in Gwinnett County. Season 3 was nominated for 18 Emmys, and seasons 4/5 will be combined, with filming expected to begin in late 2020. Gwinnett locations in season 3 include Berkeley Lake, Technology Park / Peachtree Corners, the Sonesta Atlanta Gwinnett Place, Buford, Tom Wages Funeral Home, Lake Lanier and extensive road filming in Buford, Norcross and on Peachtree Industrial Blvd.
Holidate
Currently in post-production, this McG-helmed rom-com starts Emma Roberts and Luke Bracey as two twenty-somethings who agree to be each others plus ones for each holiday celebration over the course of one year. Holidate made its studio home at OFS movie studios, with extensive location filming in Berkeley Lake, as well as Gwinnett Place Mall, Sprouts in Peachtree Corners and Norcross.
Dynasty
Recently renewed for a 4th season, the Dynasty reboot films in numerous locations throughout Gwinnett County, including their studio home at Norcross' Eagle Rock Studios. Filming locations you might recognize include Suwanee City Hall, downtown Historic Norcross, One Heart Church, Mt. Carmel Church in Peachtree Corners, the Infinite Energy Center, and Kennedy Rd in Suwanee.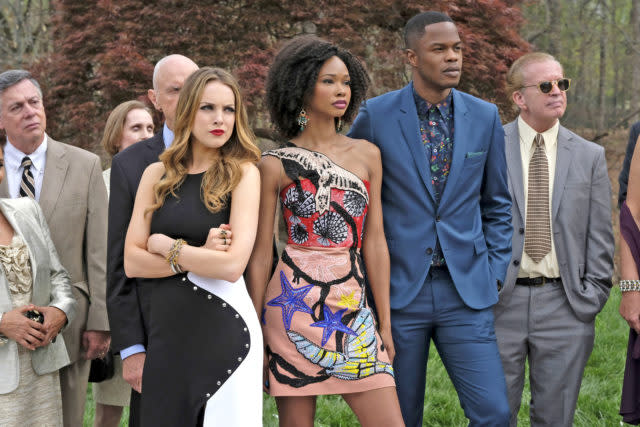 Stranger Things
This Sci-Fi hit is a can't miss. One of the most notable locations from season 3 is Starcourt Mall, which is actually Gwinnett Place Mall in Duluth.
Doom Patrol
The superhero genre has found its home in Gwinnett as well. DC Comics' 'Doom Patrol,' follows the unlikely heroes of the eponymous team who all received their powers through tragic circumstances and are generally shunned by society. Doom Patrol filmed extensively in downtown Lawrenceville. Eagle-eyed viewers may recognize Fleet Feet, 550 Trackside, the Gwinnett Historic Courthouse and various other downtown locations. Season two premieres in 2020 on both DC Universe and HBO Max.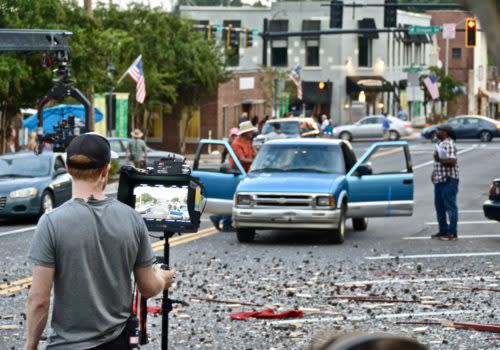 Teenage Bounty Hunters
Added to Netflix in 2020, this Jenji Kohan (Orange is the New Black, Glow) comedy involves two fraternal teen twin sisters Sterlin and Blair who team up with a veteran bounty hunter to chase "bail skipping baddies while still navigating the high stakes of teenage love". Gwinnett locations featured in season one include downtown Norcross, Gwinnett County Public Library in Peachtree Corners and TPC Sugarloaf, but be on the lookout for other popular metro Atlanta hangouts. 
I, Tonya
If you think the ice rink in this 2017-Academy Award winning black comedy looks familiar, you aren't wrong. Filmed at the Infinite Energy Arena, Australian actress Margot Robbie who won an Academy Award for her spot-on performance as ice skater Tonya Harding. Other Gwinnett locations include OFS, Green Tomato Café in Lawrenceville and Gwinnett Place Mall.
Greenleaf
This NAACP award-winning series detailed the drama and intrigue of the Greenleaf family, who ran the sprawling Memphis megachurch Calvary Fellowship World Ministries. On the surface, they were a tight night and loving clan, yet their five-season run showcased their scandalous secrets and lies. Gwinnett filming locations for the final season include Beauty Master at Gwinnett Place Mall, the old Netherworld building, Atlanta Coliseum, Thrasher Park in downtown Norcross, Echo Lakeside in Peachtree Corners and FUMI Hibachi and Sushi.
If you're into the film industry, read our interview with location manager David Luse to learn how various film backdrops are chosen.
For a full list of Gwinnett-filmed TV shows, movies and locations, check our Gwinnett Film website. 
---
Check out the Georgia Film Office free Zoom backgrounds, displaying scenes from some of the industry's most iconic Georgia productions.