Cinco de Mayo, or the fifth of May, is a holiday that celebrates the date of the Mexican army's May 5, 1862 victory over France at the Battle of Puebla during the Franco-Mexican War. The day, which falls on Friday, May 5 in 2023, is also known as Battle of Puebla Day. While it is a relatively minor holiday in Mexico, in the United States, Cinco de Mayo has evolved into a commemoration of Mexican culture and heritage, particularly in areas with large Mexican-American populations. You can learn more about the history of the holiday here.
If you're looking for a great meal to celebrate Cinco, we've got you covered. Our friend and Gwinnetian, Jose Martinez Ramirez, created a list of some of the county's most authentic Mexican restaurants. His suggestions include:
La Mixteca Tamale House (Suwanee)
Agavero Cantina (Lilburn)
La Michoacana Loca (Lilburn)
Taqueria El Dorado (Duluth)
Talpa Supermercados (Lilburn)
Taqueria Tsunami (Peachtree Corners)
Taqueria Oaxaquena De La Guelaguetza (Norcross)
La Social Taqueria Fonda (Lawrenceville)
Dulces Sueno Cakes (Norcross)
See the full post and Jose's suggestions of what to order here.
Want to celebrate at home? Order a Street Taco Kit from Strange Taco Bar, the "original unauthentic taqueria." The kit includes everything you need to build the perfect street tacos: fresh pico, shredded lettuce, shredded cheese, and flour tortillas. Serves 8-10 people.
LOCAL LOVE
Highlighting Local Mexican Businesses
Through our local love series, we make an effort to promote local minority-owned businesses. Be sure to check out the two features below and plan a visit to each place ASAP. You'll thank us later.
Local Love: Beto's Tacos 
Nicknamed "Beto" by his parents, Roberto has been serving tacos to hungry Gwinnettians since 2019. 
Local Love: Plaza Las Americas
Located in Lilburn, this building is an adaptive re-use of a vacant Lowe's storefront turned indoor/outdoor market.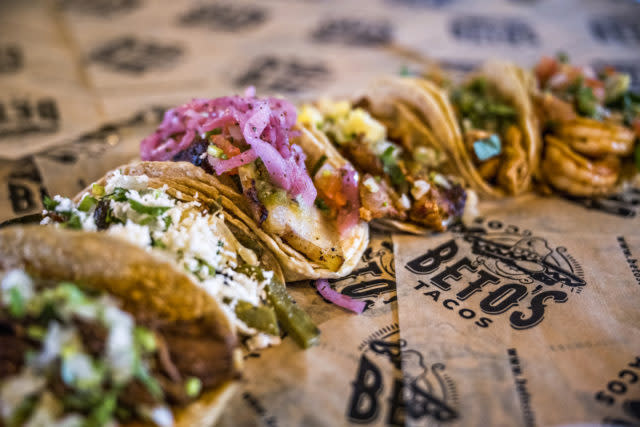 Beto's Tacos
---
As far as events go, you can find Cinco celebrations all over:
This post was updated May 2023.