Explore Dining
​7 Stops to Celebrate National Soup Month
Happiness is homemade soup.
It's cold y'all. What's better on a chilly winter day than a hot bowl of soup? January (fittingly) is National Soup Month, and here are seven places where you can celebrate.
1. Black Walnut Cafe. Located in Peachtree Corners, Black Walnut Cafe is serving up a variety of soups. If you like a little spice, try the chicken tortilla soup. If you're looking for something more classic, order a grilled cheese and the creamy tomato basil with cheese tortellini.
2. Mojito's. In the classic Cuban style, Mojito's in downtown Norcross makes a mean black bean soup in a cup or a bowl. Give the crème of calabasa a try—a creamy, chicken-broth based soup of butternut squash-pumpkin garnished with fresh cheese cubes.
3. Epicurean Cafe. At Epicurean Cafe, you can order one of their many delicious salads or sandwiches and pair it with a cup or bowl of their tomato basil bisque.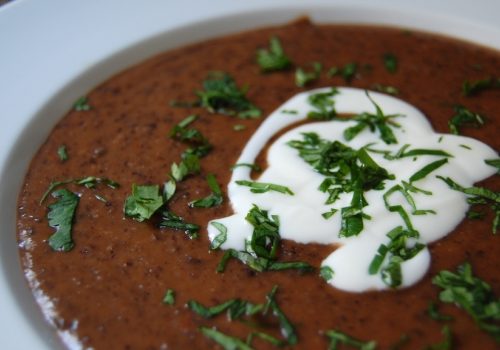 4. Three Blind Mice. If you find yourself at Three Blind Mice in Lilburn around dinner time, order the french onion soup gratinée. This hearty, rich and delicious soup will certainly warm you up.
5. Don Soo Baek. Gwinnett has no shortage of international dining, and that holds true with soups. Don Soo Baek is well-known for their traditional Korean soups and stews. The popular pork bone broth soup with large slices of pork and blood sausage is especially good. It's one of the best representations of regional cuisines from southeast Korea.
6. J's Mini Hot Pot. It's like fondue for soup. At J's Mini Hot Pot, diners each get their own broth base (beef, chicken, vegetarian, etc.). From there, you can pick which meats, vegetables and noodles you want to accompany your broth. The broth continues to simmer while you cook your meat and vegetables at your own pace.
7. Pho Dai Loi 3. I can't write a soup post without including some pho. Pho Dai Loi 3 is highly rated by all of your peers on Yelp and Facebook. A typical bowl of Vietnamese pho consists of broth, rice noodles and a variety of meat and vegetables.
Cozy up and get your soup on. Comment below with your favorite soup and stew spots.
---
Post by Jessica Whittingslow

Self-proclaimed foodie and adventurer, Jessica loves to explore Gwinnett and all the great dining, shopping, activities and events the area has to offer. When she's not telling you guys what dishes to try or where to be, she's reading, spending time outdoors or catching up on the latest Netflix original series (who else loved Stranger Things??). She's got an Australian Shepherd that's basically her child and a husband, who always comes second to the dog (sorry, not sorry).