As we venture a little further north in Gwinnett, we discover that there are some great options around the Mall of Georgia for affordable and delicious eats. From the owner of Dan Moo Ji, a very popular Korean snack food place in Duluth, comes TopPoke in Buford. 
This new concept offers a variety of Korean and Asian dishes that offer something for every palate. As the name implies, they specialize in poke dishes. Poke has recently gained in popularity as it has spread from its humble origins in the Hawaian islands to main street America. You can find a poke spot in every major city, and metro Atlanta is no exception.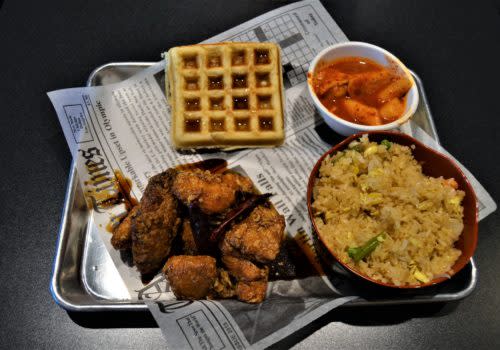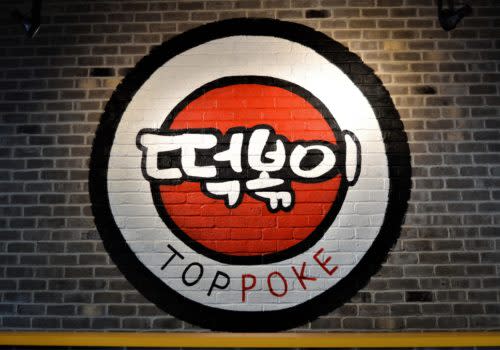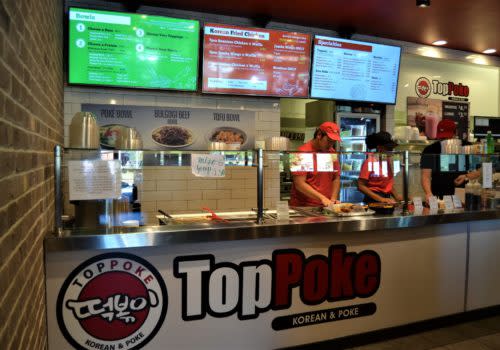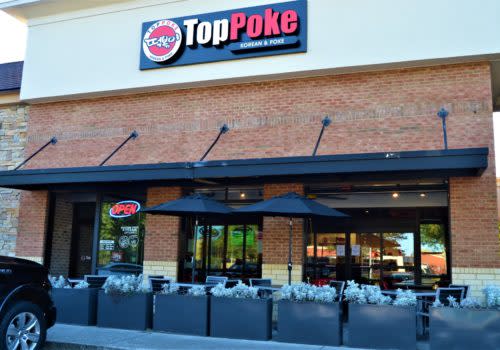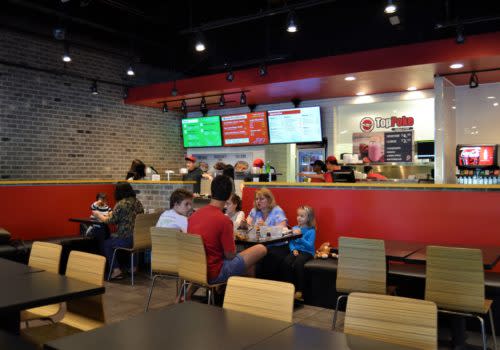 TopPoke offers a rice bowl with a selection of proteins. While the most common and popular is the marinated and seasoned raw fish, there are also cooked options for those who may not be comfortable with raw seafood. After selecting your protein, you are able to choose from a spread of vegetables, both fresh and pickled. You top your creation with a sauce of your choice ranging from a mayo-based to spicy Korean-style gochujang, a sweet yet spicy condiment that usually accompanies bibimbap. 
If you are craving more snack food items, TopPoke has a selection of sushi-style rice rolls, spricy rice cakes, and the ever popular Korean fried chicken. Sauces for the fried chicken are similar to Dan Moo Ji's offerings, including one that is soy sauce based for those wanting a break from all of the spice. Other popular items include fried rice and boiled fish cakes served in a warm, savory broth. This dish is perfect after a nice long day of shopping at the Mall of Georgia. 
TopPoke's interior is clean and modern, much like its sister establishment. The restaurant is located in a center with plenty of parking and easy access. It's really terrific to find a quality and affordable Asian option in Buford, and it makes a perfect stop for before or after a Gwinnett Stripers' game. Be sure to check out TopPoke the next time you're up in Buford for an event or just hanging out at the mall. 
---

Post by Sarah Park
Sarah Park is native to Korea, and she loves food. Community involvement is something Sarah is very passionate about.
She hosts a weekly segment on Atlanta Radio Korea informing the Korean community of local events and programs as well as new openings and hot spots for different types of cuisine.
Sarah serves on various advisory committees including the Korean Food Global Association Southeast and the Atlanta International Night Market. She also served with Atlanta Food Service Expo and has been recognized for her global food initiatives.
Currently a Gwinnett resident, Sarah is a true foodie who enjoys all types of cuisine and traveling to sample different tastes from regions around the world.