It's truly a tradition unlike any other.
There are so many things to love about The Masters. Aside from the golf, there's great food, delicious beverages, and quirky traditions. 
Not able to be at Augusta National this year? No worries. We'll give you a few ways you can make it feel like you're at The Masters right here in Gwinnett. 
PIMENTO CHEESE 
The first thing that comes to most people's minds when planning out their menu for the week at The Masters is the pimento cheese sandwich. 1910 Public House (Lilburn) will take care of this for you. Order the pimento cheese with toast or pimento cheese fritters. 
EGG SALAD
Right up there with the pimento cheese is the egg salad. Paris Baguette (Duluth) has an excellent egg salad sandwich made with milk bread and cucumber. 
COCKTAIL
The ever-famous Arnold Palmer is the beverage most tournament-goers are hoping to order. Want it spiked? Order the John Daly. Uncle Jack's Meat House has the fixin's to concoct this cocktail.
THE GREEN JACKET
Well, you can't get an ACTUAL Masters green jacket, but Gwinnett is full of boutiques where you can get something on theme. Check out Personify Shop for pieces like this velvet quilt jacket.
THE FLOWERS
The azaleas at Augusta National are something to marvel at. At the same time, it's hard to travel around Gwinnett and NOT see rhododendron this time of year. All the burgeoning buds will make you feel right at home... well, in Augusta that is. Just take a walk through a Gwinnett park to see some beautiful blooms.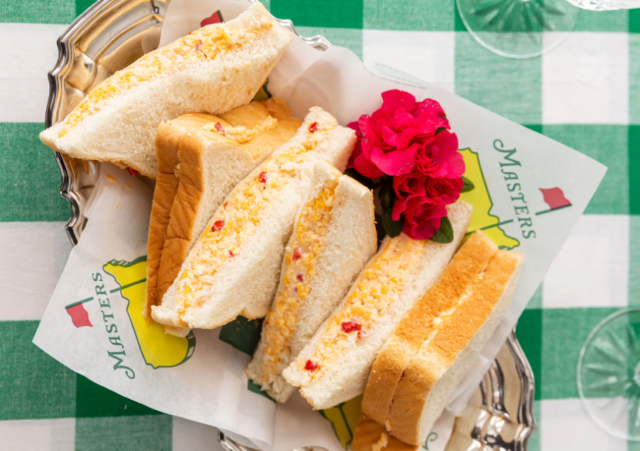 GOLF
If you're missing the Masters, playing a little golf might curb your longing. Gwinnett has a handful of excellent courses, as well as a few game-based golf facilities.
WATCH PARTY
If you can't watch from the course, you can at least head to a local restaurant or bar and catch the tournament on TV. A few suggestions here.
There you have it! We hope you enjoy this time-honored tradition, whether you're in Augusta or right here in Gwinnett.