We're kicking of a new series of posts here on The Latest! Our City Series! Gwinnett's a pretty big county, and it's full of exciting places to explore. Here, we'll help you get to know a handful of our cities through interviews with locals. We're kicking of this new endeavor with Abby Wilkerson from City of Suwanee.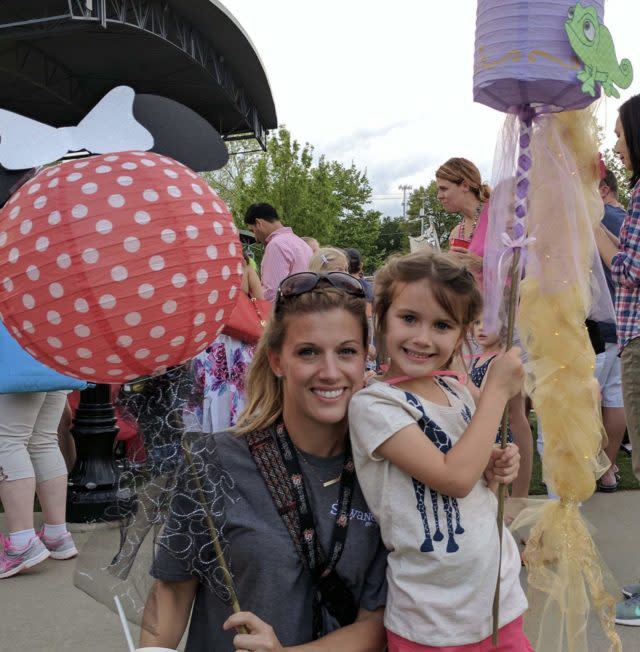 Abby and her daughter at Glow in the Park
1. Describe your city in one word.
Dynamic! Suwanee is constantly growing and changing, and we're on the verge of something big (again 😉).
2. Tell me about any new developments that are happening.
Oh, we may have a few little things happening here and there… A little background: One of the big ideas that emerged from our 2015 Downtown Master Plan was the expansion of Town Center. After gathering information from stakeholder meetings, citizen surveys, planning workshops, and a variety of other meetings and presentations, the city has embarked on the expansion of its Town Center:
Expanding Town Center Park into the 25 acres behind the Suwanee library and Playtown Suwanee. The project will include a terrace plaza, bridge and water feature, public art, sand volleyball courts, and 15 acres of woodlands traversed by a greenway. The new park design is influenced by the style and quality of Town Center Park, but will have its own unique character and purpose. 
Solis Town Center – a public-private partnership between the Suwanee Downtown Development Authority and developer Terwilliger-Pappas – features 12,000 square feet of retail and restaurant space, 71 for-sale townhouses, 240 luxury apartments, and a four-story parking deck. The $46 million mixed-use project is nearing completion, with the first residents having moved in on November 1. The addition essentially doubles Suwanee's downtown area, which boasts over 150,000 square feet of commercial and office space, as well as 560 residential units within an 80-acre area. 
$11 million in enhancements to Buford Highway, including bike lanes, a greenway, 10-foot wide sidewalks, a roundabout at Russell Street, and benches along the road to promote walkability.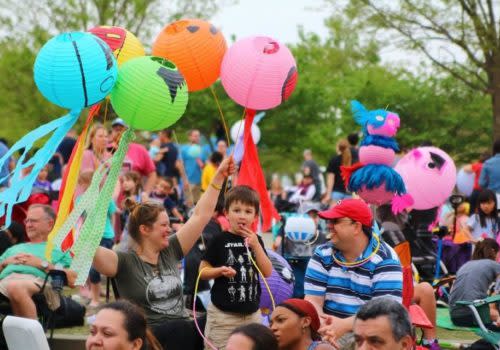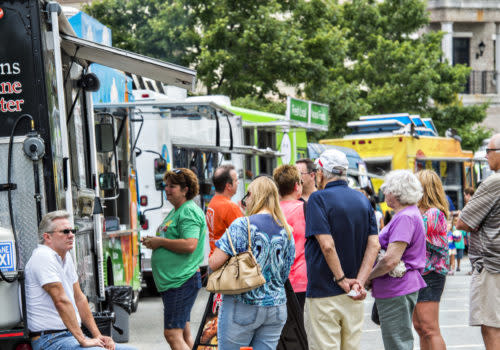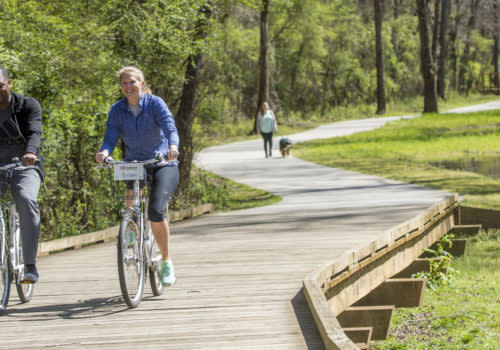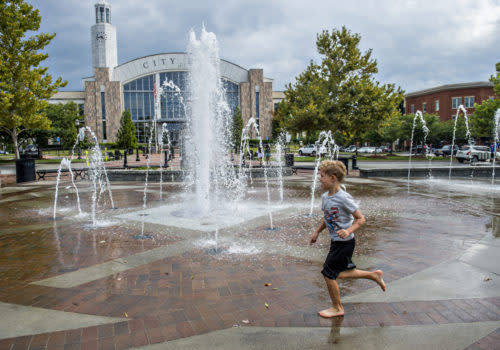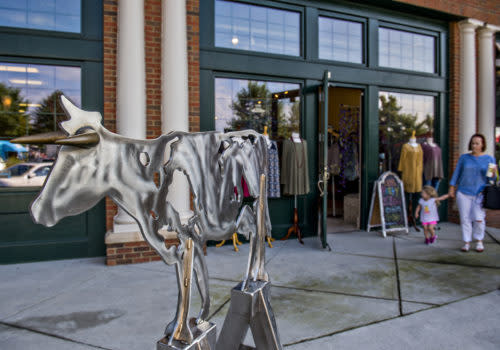 3. What upcoming events are you most excited about and why?
Probably the installation of the new SculpTour Exhibit this spring. It's always fun to change up the public art in the park and watch the community reactions to the new pieces. I'm also pretty excited about Big Artsy, which is a partnership with the Aurora Theatre. We hosted the Aurora's performance of Memphis at our SculpTour Sip & See in 2017,  and I was blown away by how incredible the show was, despite no scenery, props, blocking, etc.
4. What's your favorite event and why?
How about my top two favorite events:
Glow in the Park is our community lantern parade and concert. I love this event because we expected about 400 people to make lanterns and come out the first year (2017), and we were blown away by 6,000 people in our park carrying lanterns! We had to change up the parade route the next year so that the front didn't catch the back! It's super fun to walk around and enjoy everyone's creativity. 
Summer Porch Jam was new last year, and I love it because it is just so laid back and cool. It feels like an old-fashioned summer block party: food trucks, beverages, musicians play outdoors at multiple venues throughout Old Town Suwanee. It's so cool to sit in someone's front yard and listen to someone playing a guitar on the front porch! It's held annually on the Summer Solstice (longest daylight of the year), which is June 21.
5. Any must-try restaurants visitors should know about?
We have a new French (ooh la la!) restaurant called La Belle Vie that serves a phenomenal Sunday brunch.
6. What are some unique outdoor/recreation experiences people can participate in?
As a mom, I'm pretty geared towards playgrounds and ball fields. Playtown Suwanee is my favorite playground of all time – nestled in the woods, kinda shady, and just cute as all get out. I also love its history: the playground was built entirely by 1,200 community volunteers in under a week. I'm also a huge fan of the Suwanee Greenway. I can drop my oldest off at softball practice at George Pierce and go for a run in the shade along the greenway. There are always other runners, dog walkers, cyclists, etc., so I feel completely safe by myself.
7. Where's your favorite place to shop in the city?
For a seriously unique gift, I love the Suwanee Arts Center. They have all kinds of handmade jewelry, ornaments, pottery, and art work. It's a great spot for "the person who has everything." Suwanee-philes can also pick up branded swag at the Welcome Center, located in the same space.
8. What's something people might not know about your city?
That it didn't just "happen." City staff, elected officials, and engaged citizens have been master planning our community for the past 25 years. No detail is left unconsidered; everything we do has been thoughtfully considered to the nth degree (sometimes maddeningly, for a "Let's go do it!" person like myself).
As you can see, there's a lot to love about Suwanee. Stop by the city next time you're nearby, and keep up with our calendar of events so you always know what fantastic events are coming up.
---
Interested in some of Gwinnett's other cities? Check out our story about Lawrenceville.
---

Post by Jessica Whittingslow

Self-proclaimed foodie and adventurer, Jessica loves to explore Gwinnett and all the great dining, shopping, activities and events the area has to offer. When she's not telling you guys what dishes to try or where to be, she's reading, spending time outdoors or catching up on the latest Netflix original series (who else loved Stranger Things??).