From my previous posts, you know that there is no shortage of unique dining options especially in and around Gwinnett. But what then? Where can one go after a nice meal when hanging out with friends? Sure there are coffee shops and bakeries, but what if you are in the mood for something a little more exciting? 
Introducing AGIT, a new lounge and bar concept opened by four enterprising young men in Duluth. Friends since arriving from Korea for high school, AGIT is their brainchild to create a safe and fun atmosphere for guests. 
The interior is vibrant and young with a decor reminiscent of the 1980s complete with original, handcrafted graffiti-style artwork in all of the karaoke rooms. The drawings include fun takes on classic cartoon characters such as Kermit the Frog and Bart Simpson. There are also fun Korean phrases located throughout the entire space in classic neon lights to complete the retro mood.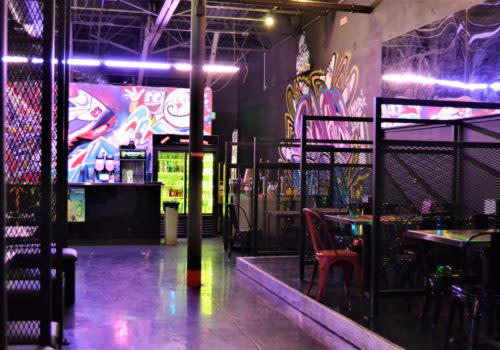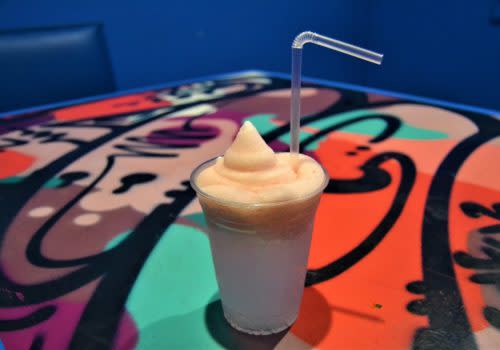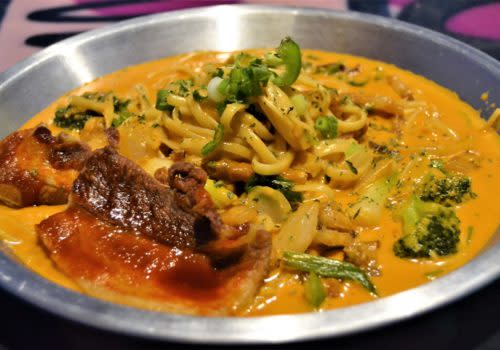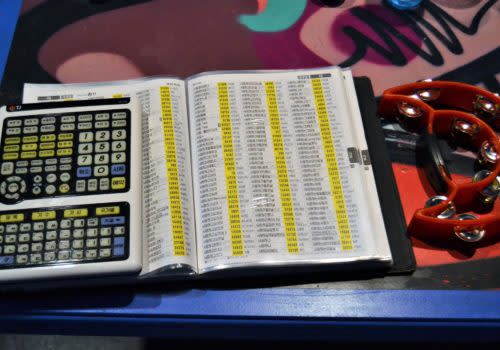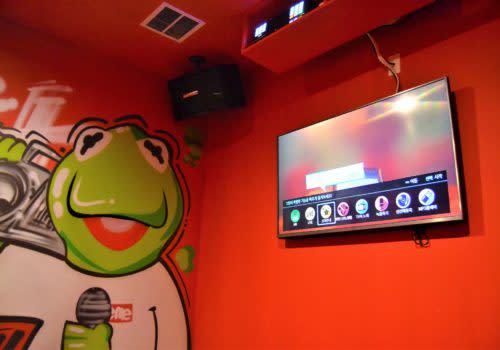 AGIT also boasts a full kitchen with a selection of creative dishes perfect for dinner or late night snacking. Some highlights were the spicy pork belly pasta and an entire squid breaded and deep fried. It is a calamari lovers dream come true! The creativity does not stop there. The owners created several unique cocktail and beer offerings perfect for washing down all of that delectable food. When visiting AGIT, definitely be sure to try out their take on a frozen beer in original or strawberry flavor. 
Open daily from 6:00pm to 2:00am and until 3:00am on Fridays and Saturdays, AGIT is sure to become a popular late night spot any day of the week for those seeking a good time and for those wanting to try their hand at karaoke. Weekends are usually very packed so for those with a flexible schedule, AGIT offers free karaoke and a complimentary beverage Monday through Wednesday. So the next time you are out and looking for some late night fun, be sure to include AGIT on your list of places to visit in Gwinnett!
---

Post by Sarah Park
Sarah Park is native to Korea, and she loves food. Community involvement is something Sarah is very passionate about.
She hosts a weekly segment on Atlanta Radio Korea informing the Korean community of local events and programs as well as new openings and hot spots for different types of cuisine.
Sarah serves on various advisory committees including the Korean Food Global Association Southeast and the Atlanta International Night Market. She also served with Atlanta Food Service Expo and has been recognized for her global food initiatives.
Currently a Gwinnett resident, Sarah is a true foodie who enjoys all types of cuisine and traveling to sample different tastes from regions around the world.