That's what your dog will be thinking after a day out in Gwinnett.
What does glee look like in a dog? Running circles around the foyer at the mere sight of the leash? Streaking across the dog park in that first moment of sweet freedom? Perhaps basking in a cool river on a hot day, wearing a contented smile (okay, a pant that looks like a smile). With spacious parks, nature-filled walking trails, and friendly businesses that cater to dogs and the people who love them, Gwinnett is guaranteed to get tails wagging.
Top Dog Parks
On a summer day, there's no better spot for energetic canines than Duluth's Chatta-poochee Dog Park, where splash pad-like fountains keep dogs cool and leashed pups can wade in the Chattahoochee River. Also in Duluth, McDaniel Farm Park is a historic tract where livestock once grazed; now Boston terriers and border collies romp in two grassy expanses. At Settles Bridge Park in Suwanee, escort your pooch on a nature walk before unleashing him in one of three enclosures: the requisite small and large dog areas or a long dog run. The dog park at Lilburn's Ronald Reagan Park also offers an enclosed run for the sprinters in the pack, plus a nearby creek for cool-downs. Two of the county's newest doggie playscapes are at J.B. Williams Park in Lilburn and Rock Springs Park in Lawrenceville. Both offer agility equipment and plenty of space; the latter even has lights for evening outings.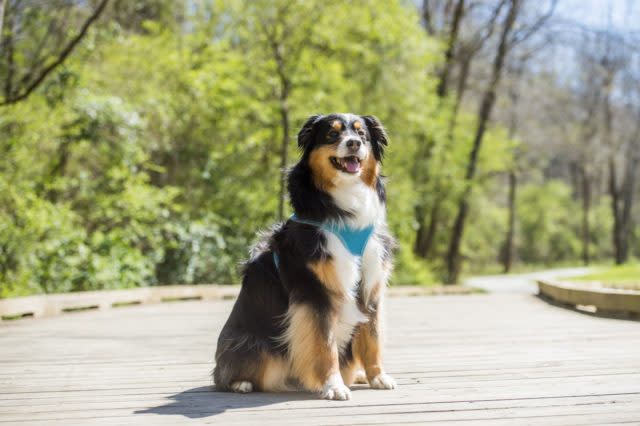 Human-Dog Hangouts
At 4.2-acre Lillian Webb Park in downtown Norcross, stroll by a gazebo and several fountains before finding a grassy stretch of lawn. There's even an interactive splash pad to cool off. Get fresh air on the Lawrenceville Lawn, a manicured green space with footpaths and a gurgling fountain, before or after grabbing a bite in the city's historic downtown. Curving along the shoreline of a wide bend of the Chattahoochee River, Jones Bridge Park in Peachtree Corners is a unique park with several stone staircases leading to the water's edge (and in some cases straight into the water). Kids and leashed dogs love exploring the rocks and muddy shore, but mind the changing water level.
---
Five-Paw Restaurants
Your dog will love being included inthe fun on these pup-friendly patios
UNIVERSAL JOINT
Play bocce and cornhole while you wait for a top-notch burger at this Lawrenceville Square hangout.
GOOD WORD BREWING & PUBLIC HOUSE
Find oversized Jenga, cornhole, chalk for kids, and water bowls for dogs on the patio of this new Duluth brewpub.
RICO'S WORLD KITCHEN
Comfort food gets a cultural awakening at this gas-station-turned-restaurant in Buford.Favorites include fried green tomatoes and authentic Louisiana po' boys.
---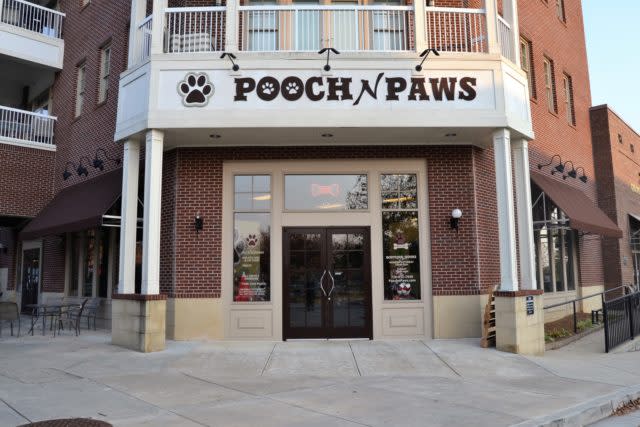 Gear and Goodies
Gwinnett pet shop shave you covered on the essentials, the splurges, and the essential splurges (like that Cocka-poo-sized Clemson football jersey). With locations in Suwanee and Peachtree Corners, Earthwise offers premium dog food, healthy baked goods and chews, plus a clothing boutique (with game-day gear come fall) and a whole room full of toys. National retailer Hollywood Feed is synonymous with top-tier pet food, but the friendly stores (with three Gwinnett locations) are also packed with toys, accessories, and supplements. On the hyper-local side of the spectrum, Lawrenceville's Daffy's New & Used Pet Supplies sells gently used toys, dented crates, and other discounted items; proceeds benefit the store's pet food bank and natural disaster outreach. Someone been an extra good boy? At Grayson's Three Dog Bakery, the frosted pastries, carob confections, and ice cream are made for canines using human-friendly ingredients, so feel free to take a bite. Smiling Canine Bakery is a new Buford destination for healthy, homemade dog treats, including cakes, "pupsicles," pill munchies, and breath-freshening mint chews
Spa Day
There's not much better than a squeaky-clean dog. Whether your poodle needs a fancy French bikini clip or your German Shepherd needs a scrub, Lawrenceville's Swanky Paws Pet Spa offers a full suite of grooming services, including short-turnaround appointments for senior and special-needs dogs. At Pooch N Paws Pet Boutique, you can drop your puppy off for an attentive bath or full-on makeover while you shop at Suwanee Town Center or the Forum on Peachtree Parkway. (Tip: the three-hour "drop and shop" pet-sitting service is available even for non-grooming clients.) Bathing can be a sensitive affair for many dogs, and family-run Happy Tails Pet Grooming & Boarding prides itself on offering an intimate, kennel-free boarding and grooming environment. In Suwanee, The Paw Plex is a one-stop shop for grooming and leash-free boarding and daycare.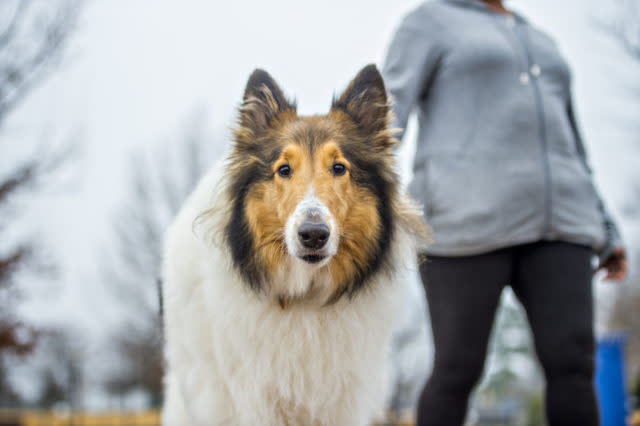 Walks to Remember
Whether he's a fleet-footed jogging pal or a dawdler sniffing every rock in sight, your pooch will love a leashed promenade on one of Gwinnett's many nature trails. Spy long-legged wading birds and grazing deer on the Suwanee Greenway, which winds about four miles through quiet woods and wetlands on a mix of pavement and boardwalk. The greenway's northern terminus is at George Pierce Park, the city's largest park, home to its own 3.8-mile trail network as well a 1.2-mile segment of the lush Ivy Creek Greenway. Go for a hike or a run at Tribble Mill Park and you'll be rewarded with a choice of picturesque views. The 700-acre park is located just outside of Grayson and east of Lawrenceville and is bordered by the pristine Ozora and Chandler Lakes. A 3.4-mile trail winds its way around the water. Natural beauty abounds at 223-acre Simpsonwood Park in Peachtree Corners. Take a leisurely walk along a wooded 3.1-mile trail; restrooms, a quaint chapel and a pretty pavilion are on site. At Holcomb Bridge Park in Peachtree Corners you'll find a playground, a pavilion, a wooden amphitheater, and two scenic river overlooks.